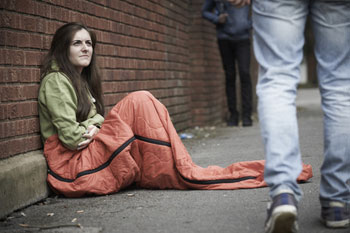 Welfare restrictions are forcing young people into homelessness despite recent Government reforms, charity says.
A survey by the homelessness charity Centrepoint found that local authorities supported the principles underpinning Whitehall's flagship Homelessness Reduction Act.
However, it also revealed that welfare restrictions were preventing many young people from being able to rent in the private sector.
The charity surveyed 119 English local authorities to examine the challenges they face in delivering their housing duties.
Nearly all of the respondents (99%) cited the restriction in local housing allowance for young people as an obstacle to finding them accommodation.
A large majority (85%) also said they struggled to deliver their housing duties because of welfare reforms aimed at young people.
The lack of available housing was also a barrier to tackling homelessness, Centrepoint found.
Just over 80% of the respondents think the lack of suitable housing stock, such as social housing, is a barrier to their ability to deliver housing duties to young people.
A majority (68%) think the lack of supported accommodation such as specialist hostels is a barrier.
The number of young people aged 25 and under sleeping rough in England increased by almost a third between 2016 and 2017.
'Any young person who is threatened with homelessness is in an incredibly difficult situation,' Seyi Obakin, chief executive at Centrepoint.
'They may have experienced trauma and abuse, and may not have the financial or moral support of their family, so it's essential they can find a secure and stable place to call home.
'Vulnerable young people and the local authorities tasked with supporting them under the Homelessness Reduction Act must be able to secure accommodation if the Act is to be a success.
'As the supply of supported accommodation and social housing dwindles, Centrepoint is calling on the government to give all young people who are threatened with homelessness access to a higher rate of housing allowance so at the very least they are in a position to rent privately.'