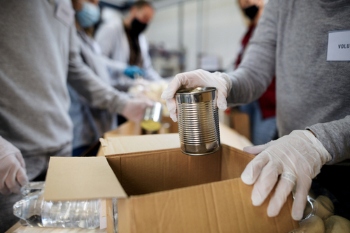 The reduction in Universal Credits payments and the cost of living crisis have forced millions of people to rely on food bank parcels, the charity Trussell Trust has warned.
New figures from the charity have revealed that from 1 April 2021 to 31 March 2022 food banks in their network provided more than 2.1 million parcels to people facing financial hardship.
This is the first time food banks in the Trussell Trust's network have provided more than 2 million parcels, outside of 2020/21, at the height of the pandemic.?
The charity's end of year figures also revealed that more than 830,000 parcels were provided for children, representing a 15% increase from 2019/20 when 720,000 were provided.?
The Trussell Trust identified the Government's decision to cut £20 a week from Universal Credit, the energy price cap rise and the increase in the cost of living as some of the factors driving the increase in food bank use.
'People are telling us they're skipping meals so they can feed their children. That they are turning off essential appliances so they can afford internet access for their kids to do their homework,' said Emma Revie, chief executive of the Trussell Trust.
'How can this be right in a society like ours? And yet food banks in our network tell us this is only set to get worse as their communities are pushed deeper into financial hardship. No one's income should fall so dangerously low that they cannot afford to stay fed, warm and dry.
'There is still time for the UK government to do the right thing. We are calling on the UK government to bring benefits in line with the true cost of living. As an urgent first step benefits should be increased by at least 7%, keeping pace with increases in the cost of living.
'In the longer term, we need the Government to introduce a commitment in the benefits system to ensure that everyone has enough money in their pockets to be prevented from falling into destitution.
'By failing to make benefits payments realistic for the times we face, the government now risks turning the cost of living crisis into a national emergency.'