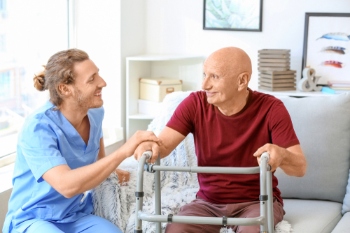 People working in adult social care in England are set to benefit from a £500m boost that will go towards improving the recruitment and retention of staff.
The funding will come out of the £36bn that the Health and Social Care Levy, which comes into force tomorrow, is predicted to raise over the next three years.
Over £5bn of the cash generated by the levy is dedicated to adult social care.
'As we recover from COVID, we must look to the future and to reform - this £500 million package of support will boost workforce recruitment, allow staff to progress in their careers in the sector and very importantly, ensure staff wellbeing is better supported,' said the minister of state for care and mental health, Gillian Keegan.
'The type of genuinely transformational change cannot be accomplished overnight. We know staff will need continued support, but we hope this package will level up opportunities for current and future social care staff.'
The extra funding will support the professional development of care workers and registered managers, and will pay for Care Certificates that are recognised across the sector.