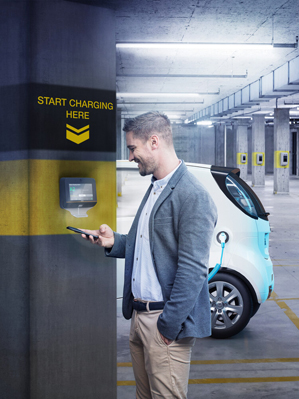 The UK's leading parking solutions business APT SKIDATA has come up with an innovative way of solving the country's electric vehicle (EV) charging shortage. It has launched a packaged solution for car parks in local authority locations that makes EV charging as easy as parking and allows EV drivers to pay for both services in one simple transaction.
Known as 'Charge', the new solution combines new ePlug charging stations with APT SKIDATA's proven Parking.Logic management system to enable customers to pay for parking and charging at the same time through the standard pay machine or at the exit.
Crucially, they can do so without the need for any additional app or payment terminal, simplifying the process and further improving the customer experience.
The demand for EVs and chargers has surged over the last four years, with a 66% increase in the number of EVs on the road since 2019. While there has been a rise in the number of public EV chargers, with 22,000 available, the number is limited when compared to the 1 million EVs on the road, resulting in a ratio of 1 charger per 43 EVs.
Drivers readily complain that charging points are often inconveniently sited, there are too many networks, and there are already too many apps.
Steve Murphy, Managing Director of APT SKIDATA, says that with anything up to 20 million EVs expected on roads by 2030, Charge is helping to fill a logical gap: "Car parks provide the ideal opportunity to charge your EV, and despite having all this space to add chargepoint, very little space is currently given over to EV charging," he says. "One of the barriers is that there has been no true integration between the parking systems but thanks to Charge this is now possible.
"Charge provides a better, more convenient solution to the customer, while helping car park operators to make their site a destination with all the benefits this brings to local communities and none of the hassle of any additional third-party integrations. So, if you want to add EV charging to your site it does not have to be complicated – in fact, if you can know how to use Parking.Logic, then you already know how to manage EV charging."
APT SKIDATA's ePlug chargepoints are available as either wall or pedestal mounted and come with a standard type two connector to a maximum of 22kW. ePlug operates alongside APT SKIDATA's eSelector user interface, greeting users with a comprehensive charging guide and instructions. Customers can check out using a 2D barcode, QR code, or with their licence plate when an Automatic Number Plate Recognition (ANPR) system is installed.
Steve says that charging is now as simple as parking: "Customers simply arrive, plug in, identify themselves, and go about their business while their vehicle charges. On their return, they pay for their parking and charging in one single transaction, unplug their vehicle and they're on their way. It couldn't be easier.
"We're making EV charging available to everyone, in places where everyone goes."