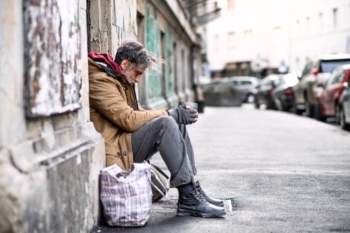 Ministers have unveiled a further £105m of funding to help keep rough sleepers off the streets after the pandemic.
The cash will help with interim housing for people who were put in temporary emergency accommodation, such as hotels, at the start of the coronavirus crisis. It follows £433m announced in May to provide longer term housing before the end of the year.
Dame Louise Casey, who has led Government efforts to protect rough sleepers during the pandemic, said there was 'no going back on the streets' for the 15,000 helped by the Everyone In programme.
Dame Louise said: 'Everyone In has been an extraordinary effort from councils, charities and many others to provide a safe haven for almost 15,000 homeless people who were either on the streets or at risk of rough sleeping during this Covid-19 pandemic.
'We now have an extraordinary opportunity to help keep them in and turn their lives around if we get the next steps right. I am clear that there can now be no going back to the streets as people begin to move on from the emergency accommodation that has been put in place.'
An additional £16m funding has also been announced to provide drug and alcohol services to help people turn their lives around. In total, it means the Government has provided more than half a billion pounds to help rough sleepers get off and stay off the streets.
Announcing the additional cash, housing secretary Robert Jenrick said: 'The additional funding announced today will allow us to continue to support these individuals – giving them access to the accommodation and support they need now while we continue with plans to deliver thousands of long-term homes in the coming months.'
Of the £105m announced, £20m is existing funding brought forward, while a further £85m is new money.