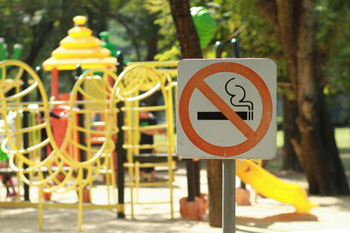 Councils will be required to publish a 'local toilets strategy' and ban smoking in playgrounds after a radical new Bill was approved in Wales.
The Public Health (Wales) Bill, which was passed by Assembly members yesterday, will also introduce a mandatory licensing scheme for procedures such as tattooing, body piercing and electrolysis.
It will also ban smoking in public playgrounds, school grounds and hospital grounds, and will create a national register of retailers of tobacco and nicotine products.
Public bodies in Wales will also need to assess how they decisions will affect people's physical and mental health.
Before the vote, minister for social services and public health, Rebecca Evans, said: 'It has a particular focus on promoting children and young people's health.
'Proposals such as the ban on smoking in school grounds, childcare settings, and playgrounds are intended to prevent children from being exposed to smoking behaviours, making it less likely that they'll take up smoking themselves.'