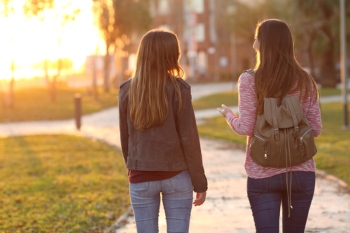 Young people often feel unwelcome in parks and other green spaces, a charity has warned.
Groundwork argues that young people are often to blame for vandalism or fear of crime, so feel excluded from these spaces. It also said that parks don't always have the facilities young people want, and they are rarely consulted on to find solutions.
Working in partnership with Fields in Trust and the National Youth Agency, the campaign urges young people to 'reclaim' their parks and write to their MP calling on the Government to invest in these spaces in the Autumn spending review.
Graham Duxbury, chief executive of Groundwork, said: 'Parks play a hugely important role in society and should be for everyone. We know young people are interested and passionate about nature and open spaces, but their voices are not always heard by people who make the decisions.
'Unless we change the conversation, too many will continue to feel excluded. As young people get their lives back on track after the pandemic there is a huge opportunity to do this in a way which helps connect them with nature and connect them with their community. This is an opportunity that mustn't be missed.'
A report published earlier this year by Groundwork highlighted major inequalities in people's ability to access parks and other open spaces. It found girls and young women often feel unsafe in public spaces, some disabled people feel uncomfortable in parks and young people from minority ethnic backgrounds have fewer opportunities to connect with green spaces.