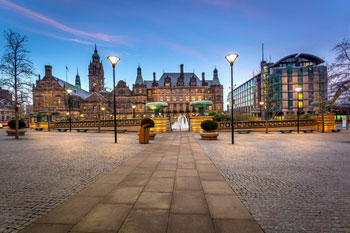 Local government leaders from across the North have said they are 'disappointed' at Whitehall's response to their devolution deal.
Last March representatives of 18 councils in Yorkshire, as well as the mayor of the Sheffield City Region, submitted what they described as a 'detailed and concrete' proposal to the Government outlining their vision for a county-wide devolution deal.
However, following a meeting yesterday, the council leaders said they were 'disappointed' by the Government's response which they received earlier this week.
'Having promised to give careful consideration to the One Yorkshire proposal, Yorkshire Leaders were disappointed the Government's response earlier this week was a three paragraph letter placing obstacles to achieving a devolution settlement and not addressing the detail of the proposal,' they said.
'The One Yorkshire proposal has the cross-party support of 18 authorities and the Mayor of the Sheffield City Region, ready to deliver a devolution deal right now which would offer huge benefits for the region and the wider UK economy.
'With the constructive support of the Government, an agreement can be in place and a Mayor for One Yorkshire elected by 2020.'
The Yorkshire representatives invited the Government to be involved in the economic study of the rationale behind the One Yorkshire proposition which is currently being undertaken.
A devolution agreement for the Sheffield region was originally signed in 2015, but did not have the support of Barnsley and Doncaster MBCs, both of whom favoured a One Yorkshire devolution deal.
Then secretary of state for communities and local government Sajid Javid said Yorkshire's councils should do 'all that is necessary' for the Sheffield City Region deal to be implemented, but added they would be free to pursue a One Yorkshire devolution deal if one were proposed.