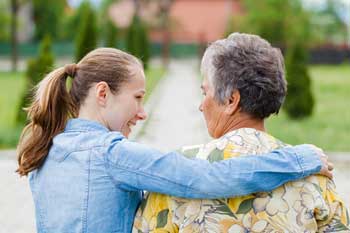 Women are paying the highest price for the Government's continued inaction on social care, an elderly persons charity has warned.
In a new report, published to coincide with International Women's Day, Age UK has set out the enormous challenges facing many women who are carers.
Breaking Point: The social care burden on women found that there are 1.25 million 'sandwich carers' in the UK. These are people caring for an older relative as well as bringing up one or more children aged under 16.
The majority (68%) of sandwich carers are women, whose ages range from 20s to 60s. More than a third (35%), however, are aged 35-44.
Three quarters (73%) of sandwich carers provide under 10 hours of caring a week and one in 14 (7%) over 35 hours per week—that's 88,391 sandwich carers providing more than 35 hours of care to loved ones each week.
Eight out of ten (84%) sandwich carers providing over 35 hours per week are women, Age UK found.
The oldest sandwich carers (55-64) provide the most care, with three in 10 (29%) of this age group providing more than 20 hours of caring a week.
In total, three quarters (78%) of sandwich carers are in paid work, and even among sandwich carers providing 35 or more hours of care a week half (49%) are working.
'Two years on from the Government's promise to fix social care with a reforming Green Paper also marks International Women's Day, and it is women who are often paying the highest price for Ministers' failure to act,' said Caroline Abrahams, charity director at Age UK.
'Our new analysis shows there are over a million 'sandwich carers', almost all of whom are women, and they are one of the groups hit hardest by the lack of good care and support.
'Given the intense pressure on them it's amazing that more don't experience a break down, but there's no doubt many are coping with much more than it is reasonable to expect. Most carers care willingly but they need more help than they receive, plus the chance for regular breaks.
'The Green Paper has been delayed five times now—it's beyond a joke. The cost of delay is very real and is falling on millions of disabled and older people who are going without the support they need, and on their carers like those in our report who are doing everything one could possibly ask and more, and risking their health, wellbeing and financial security as a result.
'If the Government is serious about advancing the interests of women in our society one of the ways it can best help is by sorting out social care, once and for all.
'We need a definite date for publication of the Green Paper and strong cross Government support for social care reform—including money from the Treasury to pay for it.'
Responding to Age UK's findings, Cllr Ian Hudspeth, chairman of the LGA's Community Wellbeing Board, said: 'Unpaid carers are the backbone of the care system, many of whom are unable to take a break, putting their own health on the line. Without these unsung heroes, who are predominantly women, the system would collapse.
'This vital network of carers is at an increasing risk of breaking down due to the nature of the job, rising costs and demands for care, and the crisis in adult social care funding.
'Over recent years, councils have protected adult social care relative to other services. But the scale of the overall funding picture for local government as a whole means adult social care services still face a £3.6bn funding gap by 2025, just to maintain existing standards of care.
'The likely consequences of this are more and more people being unable to get quality and reliable care and support, which enables them to live more fulfilling lives.
'Plugging the immediate funding gap facing adult social care and finding a genuine long-term funding solution must therefore be an urgent priority for the Government.'