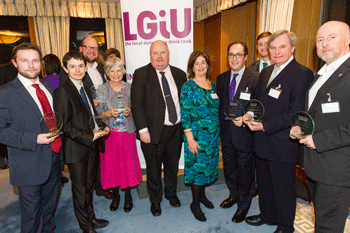 Sir Merrick Cockell and Lord Peter Smith have both received awards for their 'outstanding contribution to local government' in the 2014 C'llr awards.
The annual achievement awards, organised by the LGiU and CCLA, honoured both Sir Cockell, leader of the Royal Borough of Kensington and Chelsea and chair of the Local Government Association, and Lord Smith, leader of Wigan Council at the ceremony last night.
Cllr Rhodri Oliver, who became deputy leader of North Norfolk District Council at the age of 22, was chosen as the Young Councillor of the Year.
Dr Jonathan Carr-West, chief executive of LGiU, said: 'We're delighted to hold the C'llr Achievement Awards for the fifth year running and we've been hugely impressed by the spectacular number of entries received. This just goes to show the fantastic work many councillors are doing up and down the country.
'All too often, we can overlook the hard work and efforts of local councillors. The awards provide a fantastic opportunity to celebrate councillors' achievements and highlight their innovative work and we'd like to thank all those who showed their appreciation by making a nomination.'
The other awards were:
Leader of the Year – Cllr Jim McMahon, Oldham Council
Age UK Award – Cllr Janet Burgess, London Borough of Islington
CCLA Award for Outstanding Contribution to Financial Performance– Cllr Steve Edwards, Forest Heath District Council, and Cllr David Ray, St Edmundsbury Borough Council
Community Champion of the Year – Cllr Jack Hopkins, London Borough of Lambeth
Digital Innovator of the Year – Cllr Theo Blackwell, Camden Council
Partnership Achievement of the Year Award– Cllr Jenny Whittle, Kent County Council
Scrutineer of the Year – Cllr Nigel Cooke, Stockton-on-Tees Borough Council
Sustainability Champion of the Year – Cllr Rob Curtis, Vale of Glamorgan Council
Bruce-Lockhart Member Scholarship – Cllr Linsay Cunningham-Cross, City of York Council