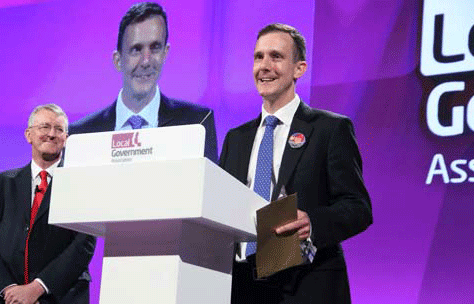 Graeme Kane, strategic leadership manager at Mole Valley Council, has been crowned the winner of the Local Government Challenge 2014.
Kane will receive the £10,000 Bruce-Lockhart Scholarship to develop his idea of creating Community Connect, which aims to create a national network of community resilience teams.
He will use the scholarship money to visit rural councils' resilience teams, visit the European Community Building projects in the Netherlands, and develop resources for Community Connect 'Workshops in a Box',
Kane said: 'Community Connect has the potential to help so many communities across the country. Winning the Local Government Challenge is a great confidence booster and I look forward to developing my career within local government on the back of this experience.'
The Local Government Challenge aims to find the 'best and brightest local government officers'. It is organised by the Local Government Association and supported by our sister publication The MJ.
Cllr David Sparks, chair of the LGA, said: 'At a time when councils are facing further cuts to budgets and pressure on services, these finalists have reminded us of some of the ground breaking work that councils do to continue providing and improving vital services. I wish all ten contestants the best of luck in the future and look forward to Local Government Challenge 2015.'
The picture above appears by kind consent from Chris Sharp Photography