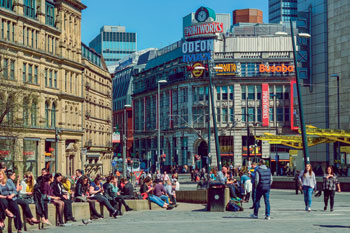 When people are asked how they see their neighbourhood or 'place' most will refer to a geographical location, either a big city like Manchester or Liverpool or a part of that city. It is the sense of place that defines community identity and is increasingly the focus of local authority service delivery. The challenge for local politicians, whose loyalty is often to their electorates who live in wards defined for administrative purposes, is to ensure they understand their wider community's sense of place.
It is important for council officers and politicians to map out a clear understanding of 'place shaping' which is shared by both themselves as service providers and their communities.
Where there is an absence of local leadership then achieving real benefits from community cohesion can be difficult; at the same time placeshaping is a two-way process as councils need to have communities' approval for new initiatives around their places if they are to be successful.
Historically councils have taken a top-down approach for new policy implementation, seeking feedback and consensus only after a public meeting,or through surveys and requests for feedback via electronic means, such as local authority websites. As a result sometimes service delivery has not always matched the expectations of local citizens.
The recent MJ/BT roundtable in the South West presented an opportunity to hear from two chief executives about their new unitary authorities and the challenges they faced around 'place shaping' for their communities with completely new organisations. With 83% of respondents to The MJ/BT survey on place indicating clearly that place is defined geographically then combining several councils into one large authority presents a real challenge.
Digital technology is one answer to addressing this challenge. It enables councils to create relationships with their residents through a community-driven approach in which citizens define their places and are closely involved in modelling their new services. Councils such as Salford City, among others, see their understanding of places as enabling residents to interact more constructively with the authority. Councils as place providers transform citizen relationships by embracing digital and social media as the channels for true inclusive representation while also capturing insight, trends and service needs.
The MJ and BT recently conducted a survey among local authority executives into their perceptions ofplace and their role in enhancing it with the aid of digital technology. The survey shows that digital technology has the most impact in such areas as highway maintenance and children's' services followed by environmental services and public transport, showing that a place-based approach can best deliver community-focussed services.
Finally, all citizens want to feel safe in their places. Community safety scored high in The MJ/ BTsurvey and through technology a place- based approach that joins up policing and CCTV, as well as tackling cyber-crime in a network where the information flow is shared between public sector bodies can deliver security to our citizens.
Michael White is director, Public Affairs and Partnerships, BT Government and Health, BT Major Business and Public Sector