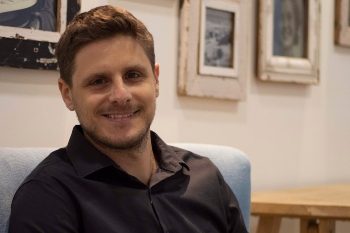 We live in a data-driven world. Masses of data are being created every day, by everyone. It's estimated that globally we create around 2.5 quintillion bytes of data every 24 hours - that's 2.5 followed by a staggering 18 zeros.
Much of this data isn't neat and easy to work with; it's messy and disparate. By 2025 it's estimated that 80% of data worldwide will be unstructured. It won't sit in spreadsheets and neat databases, but will flow from social media, streaming audio and video, as well as machines and sensors.
Much of the daily data cascade is 'exhaust data' - residual outputs of daily digital lives, quickly forgotten about. And of course, lots of energy is needed to create this data.
In 2017 Greenpeace reported that the global carbon footprint of gadgets, the internet and the systems supporting them is responsible for 3.7% of global greenhouse emissions - similar to the airline industry. It predicted this figure would double by 2025.
Our daily public data output could be seen as more useless waste, another symbol of a 'throwaway' society. But by using new tools and through careful gathering and analysis we have a golden opportunity to make unstructured public data part of a circular economy - and accelerate our response to the climate crisis.
When someone posts publicly on social media, there is date, time and location information attached to it. If all public posts made in a town or city - containing keywords relating to travel, for example - were to be captured and aggregated over a whole year, it could give us greater insight into what influences how people choose to travel. And it could help us understand the barriers that stop residents adopting greener lifestyles.
For the many councils that have declared climate emergencies and those that have pledged to achieve net zero carbon by 2030, a public data-driven approach has the exciting potential to rapidly inform more effective place-based strategies and tactical interventions.
The richness of public social media data could provide the electric car industry, local motor dealers and authorities with a richer picture on citizens' take-up rates for new green vehicles - and the unmet needs and fears holding back greater adoption.
For those cities trialling e-scooters, there is the chance to harness public reviews or comments on social media in real-time. Bringing this together with existing and traditional datasets for locations across the nation will help planners and policymakers understand more about the pros and cons of this emerging, low-carbon mode of transport.
The UK Government's National Data Strategy recognises the huge opportunity of data, highlighting that it has 'the potential to help solve wider climate change problems and help the UK meet its net zero 2050 target'.
And the Local Government Association is increasingly alive to the potential; earlier in 2021, nearly 200 people attended an event focusing on digital solutions to the climate crisis. Ellen Wilson from Microsoft Public Sector UK highlighted the importance of bringing different datasets together, 'to make a real impact on reducing carbon emissions'.
Messy data will continue to grow. We must, then, take this opportunity to harness such a valuable asset, to go further and faster in our response to climate change. But we must do this while being compliant and responsible.
Research from the Open Data Institute suggests that people may be happy with their data being used to benefit society, but may not want that data being used to assist the investment decisions of hedge funds, for example.
Transparency and openness are key if we are to work with citizens and businesses to build a level of public understanding and trust - one that allows the future-shaping potential of messy data to be realised in our fight to save the planet.
Or Lenchner is CEO of Bright Data