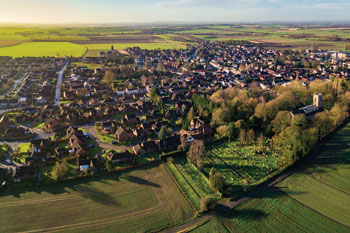 The regulation of land should be considered a part of the welfare state. By nationalising development control in the years following the Second World War, governments, rather than land owners, have been able to set the principles by which land can be used and development occur. This means development has to be appropriate, sustainable and in the public interest while not causing demonstrable harm to others.
A fundamental part of this post-war settlement on land regulation was the introduction of green belts around many of England's cities (following London's pre-war lead). The policy has protected large swathes of land from being built upon, thereby preventing town and city growth outwards and maintaining rural 'openness'.
Protection was brought forward in the same period as the New Towns programme, ensuring an adequate supply of new homes (in the public interest) and the preservation of public open spaces that could be used for recreation (in the public interest).
It is in this context which green belt regulation should be considered today. It is a part of the welfare state so should serve the broader public interests as those interests change. As Nicholas Timmins wrote in The Five Giants: A Biography of the Welfare State, the welfare state should not be considered static but 'a collection of services and policies and ideas and taxes…whose boundaries expand and contract over time'.
In some places, to varying extents, green belt boundaries are expanding and contracting in response to the needs of local populations. In one sense, this is what local plans are for. To manage growth sustainably, local planning authorities are able to change green belt boundaries.
For instance, in the Royal Borough of Windsor and Maidenhead, whose local plan is currently in consultation, eighty-three percent of land is designated green belt. The supply of suitable brownfield sites for housing is limited so to accommodate growth – assessed to be 712 new dwellings per year – parcels of green belt on the outskirts of existing settlements will be released for new homes. Strategic plans across city regions also provide a platform for the redrawing of green belt boundaries according to public need.
It is, however, no coincidence that those places slowest in adopting local plans tend to be local authorities whose boundaries are predominantly within the green belt. The Housing White Paper states that local authorities can amend green belt boundaries 'only in exceptional circumstances when [they] can demonstrate that they have fully examined all other reasonable options for meeting their identified housing requirements'.
For places with high assessed need this forces difficult decisions around green belt release. Indeed, at the time of writing, of the twelve local planning authorities whose area is over 80% green belt, just two have adopted and up-to-date local plans.
The truth is that today green belt policy is a blunt and ineffective method by which to manage and plan for population growth at the same time as maintaining public access to green space and protecting land of value to public welfare.
Firstly a great deal of brownfield land, which in some cases may be appropriate and viable for sustainable development, is protected by green belt status. This puts pressure on local authorities to bring forward land for development that may in fact be of much greater value to public welfare, for instance the loss of playing fields over the decades.
Secondly, although green belt protection prevents the construction of new buildings (save for a limited number of exceptions), it does not provide protection against other uses such as horse fields, golf courses and mono-culture, often low grade, farming. This means that in areas where land could be entirely suitable for new homes, more priority is given to a limited number of people's hobbies rather than something so fundamental to a person's living standards as their home. And this is despite those uses being often exclusionary to the wider public and poor in environmental terms.
These are perverse outcomes for a policy that is meant to prioritise public welfare. In a large number of areas of high demand, where people want to live, green belt policy actively works against what would be in the public good: the planning consultancy Quod has identified 20,000 hectares of accessible land within London's green belt which is less than 800m distance of a rail or tube station and with no other protection.
In too many cases the rigid nature of green belt policy is serving the interests of owners of property within green belt land rather than society as a whole, as the welfare state should.
While local authorities are able to review and redraw their green belt boundaries in a pragmatic method in the public interests, only direction from government will make this happen with the impact required. In short, government cannot expect local authorities, where demand is highest, to deliver enough land at the scale government (rightly) demands for new housing without a more relaxed approach to green belt disposal.
There is a viable way forward (also applicable to Metropolitan Open Land for London boroughs). In a similar vein to brownfield registers, local authorities should be compelled to prepare, maintain and publish registers of land that is designated green belt but demonstrably should not be. The NPPF outlines the five purposes that green belt land serves: if a local planning authority can demonstrate land does not serve these purposes, it should be included on their 'yellowfield register', and no longer designated green belt.
For local authorities this would allow the sustainable release of land for new homes in areas where green belt protection is unwarranted.
Reforming green belt policy is contentious. To some, it forms a part of the British psyche – there is even a music festival named after it. Yet this should not preclude its reform in the public interest. If anything, it should be its driver.
Jack Airey is author of the report and head of research at Localis
This feature first appeared in Public Property magazine. Email l.sharman@hgluk.com to sign up to your free copy.