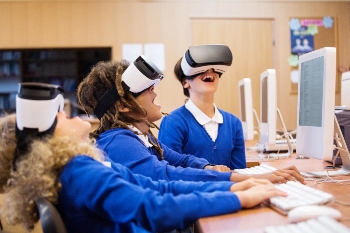 Responsible for providing a range of vital services for their communities, local authorities have faced greater pressures over the past 18 months to deliver robust public services in the aftermath of the Covid-19 pandemic. Now tasked with rejuvenating communities, local authorities need to pivot to kick-starting growth, creating jobs, and closing any divides – both economic and social – that may exist.
Increasingly, local authorities are turning to technology for new ways to deliver for communities. They seek connectivity that will provide citizens with seamless experiences across both their personal and professional lives, while also ensuring new opportunities are inclusive of everyone.
Technology deployments need to cater to more than one demographic if they are to add value to society. Uneven access to the internet, devices, and relevant skills all widen the digital divide, contributing to an income gap and, therefore, inequality.
When deployed correctly, technology can be a great leveller, bringing the same opportunities to all, and encouraging region-wide growth. Drawing on its nationwide network and technology heritage and expertise, BT is working with local authorities around the country on various initiatives aimed at addressing the digital divide, helping economic recovery and job creation, and ensuring inclusive growth.
Connectivity and community
BT is working with Leeds City Council to drive inclusive growth across the region and help combat the digital divide in its most disadvantaged communities. Its "Local Full Fibre Programme" aims to give the city's 285 schools access to the best possible connectivity, as well as installing the technology at 293 council-owned buildings, 156 NHS properties, and council housing across the city. In addition, the partnership will support the roll-out of 5G mobile coverage to 70 percent of the area by 2023, including approximately 81 percent of the city's council houses, thereby making Leeds the largest "5G capable" city outside of London.
What's more, building on the success of the "100% Digital Leeds programme", BT is also supporting a number of digital inclusion activities across the city. Its "Skills for Tomorrow" programme seeks to empower young children, unemployed and vulnerable people with digital skills to make the most of technology. BT is helping to ensure that the growth that comes from a more digital way of thinking is inclusive of all and leaves no one behind.
Further north, a partnership with North Lanarkshire Council has introduced the first 5G-enabled immersive classroom in Scotland. Powered by BT's EE 5G network, digital projection across all four walls and the ceiling has transformed a room in the Muirfield Community Centre in Cumbernauld into a 360-degree immersive learning environment. Accessible to all local students, the immersive experience supports inclusive education, helping those who may respond better to more modern methods of teaching, such as requiring more visual engagement. It also provides access to a wider range of learning resources that aren't limited by physical boundaries or schools' digital equipment.
The importance of rural connectivity
The success of this project has wider implications for schools – particularly those in rural areas. Anyone, anywhere should have access and, in schools, that means ensuring universal connectivity so that children enjoy the same educational opportunities as their counterparts in urban areas. BT's work with The University of Stirling (Forth ERA programme), highlights what can be achieved through high speed, high bandwidth 5G connectivity, by providing communities and organisations access to real-time environmental data, which ensures the environment is at the heart of decision-making.
BT is also working with the Welsh Government to bring 5G connectivity to Ebbw Vale. Supporting pilots across tourism at Raglan Castle, infrastructure and agriculture, the deployment is displaying how 5G can bring innovation and investment to the area.
Innovation and industry
BT is collaborating with local authorities to enhance infrastructure and vital commercial hubs to deliver economic growth and new opportunities via technology. For instance, it's working with Belfast Harbour to deliver its smart port strategic ambitions.
Belfast Harbour is an important gateway to trade and a significant contributor to the regional economy. In a UK and Ireland-first, BT will build and manage a live 5G Private Network designed specifically to achieve the highest levels of ultrafast mobile connectivity, coverage, reliability and security across the Port's main operational areas.
The partnership will also explore how 5G and other emerging technologies such as AI, IoT and Connected Autonomous Vehicles can be used together to enhance public safety, physical security and address climate change across the Port and other parts of Belfast City.
Consider the challenge
Local authorities are increasingly turning to digital technologies in an effort to revitalise and support their communities. After all, technology has the potential to bring value to everyone, regardless of factors such as age, religion, disability, and socioeconomic status.
But without inclusive growth, those that most need this support could be left behind. Universal connectivity and access to digital skills are critical. BT is working with councils across the country to bring high speed, high bandwidth fixed and mobile connectivity to communities, and its Skills for Tomorrow programme is boosting digital skills so all citizens can benefit from technology.
It's vital that local authorities consider the challenges they face and seek out partners like BT who have a track record of working with similar organisations. When it comes to enabling inclusive growth and closing the digital divide, partnerships are key to planning and deploying initiatives that connect for good and create a level playing-field for all.
Want to find out more? Click here.
Simon Haston, CTIO, Regions and Devolved Nations – BT Enterprise