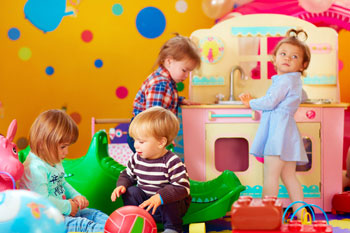 The Government should abolish universal free childcare and directly target support at the most disadvantaged families, free-market think tank argues.
A new report from the Institute of Economic Affairs (IEA) found childcare provision in the UK is amongst the most expensive in the developed world – despite Whitehall investing £7bn into the sector every year.
The report – entitled Getting the state out of pre-school and childcare – also noted a family earning roughly the national average can now spend more than a third of their net income on childcare costs.
The think tank argued this was the result of Government subsidies, such as the universal free hours entitlement, which distort prices and subsidise affluent families rather than those in need of support.
They also claimed overarching regulations such as staff-child ratios and occupational qualifications have pushed many lower-cost providers of childcare out of the market.
The report called for free childcare and what it characterises as 'overarching' regulations to be abolished.
'Government interventions in the childcare sector have resulted in both British families and taxpayers bearing a heavy burden of expensive provision,' said Len Shackleton, editorial and research fellow at the IEA.
'Regulation has led to an excessive formalisation of childcare and pre-school, which has not only pushed up costs but paid scant attention to parental preferences.
'Many families may not want the structured form of pre-school that the Government requires as standard.'
'At a time when many families are facing a cost of living crisis, it is important the Government rethinks its involvement in childcare,' Mr Shackleton continued.
'Rowing back on unnecessary regulation and focusing public funds on those who need it, rather than subsidising the well-off, would be a good way to start.'
Responding to the IEA's report, Ellen Broome, deputy chief executive at the Family and Childcare Trust, challenged the idea that less Government intervention would bring down the cost of childcare.
'Too many families struggle to find high quality childcare that they can afford: now is the time for the Government to step up, not step back,' she said.
'Only high quality childcare narrows the gap between disadvantaged children and their more well-off peers, so making savings that compromise quality are a false economy.
'We need a robust childcare strategy that prepares children for tomorrow's world and helps parents to work today. Without determined Government action, the children that need support the most – including disabled children – will continue to miss out.'