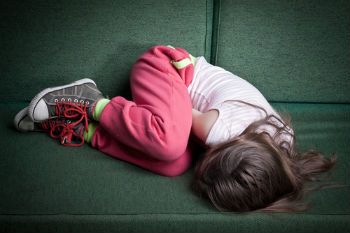 The Government's green paper on children's mental health 'doesn't go far enough' in tackling the challenges many young people are facing, local government leaders warn.
The Department of Health and Social Care yesterday published their long-awaited green paper on transforming children and young people's mental health provision.
It proposes to 'incentivise and support' all schools and colleges to identify and train a Designated Senior Lead for mental health.
It also states there will be new Mental Health Support Teams, which will be supervised by NHS children and young people's mental health staff.
The green paper's third core proposal is to pilot a four week waiting time for access to specialist NHS children and young people's mental health services.
These proposals will be trialled in 'new trailblazer areas' and will be rolled out to at least a quarter of the country by the end of 2022/23.
The Local Government Association (LGA) welcomed the publication of the green paper but was critical of its limited scope.
'We remain concerned that the green paper doesn't go far enough to tackle the challenges children and young people are experiencing to get the vital care they need,' said Cllr Izzi Seccombe, chairman of the LGA's Community Wellbeing Board.
'With only an estimated fifth to a quarter of the country's children benefitting from the Government's proposed scheme by 2022/23, this risks leaving many young people without vital support.
'We need to develop a system that says yes to all children and young people, rather than no, when they ask for help. Children and their families need help and support right now - depression, anxiety, bereavement, and family crises do not wait.'
'We want to see councils and schools given the funding to offer independent mental health counselling so pupils have access to support as and when they need it,' Cllr Seccombe continued.
'Government also needs to work with the LGA and councils to make sure this is a local area-led approach, rather than just NHS.'
The children's charity Barnardo's said they were 'disappointed' by the Government's failure to 'address gaping holes in mental health provision for children'.
The charity said they were 'deeply concerned' because the green paper does not mention the importance of early intervention in primary schools.
The Government's intervention also proposes a maximum four-week waiting time for children seeking mental health support — an improvement on the current average maximum waiting time in Child and Adolescent Mental Health of six months.
Barnardo's insists the initial assessment with a mental health specialist should take place within days of a child reporting an issue.
'Theresa May has described mental illness as a burning injustice that required a new approach from Government,' said Barnardo's chief executive Javed Khan.
'However, actions speak louder than words. The Government's response to the green paper consultation does not show enough action on how as a society we are going to stop sleepwalking into a children's mental health crisis.
'The response has let down the children who gave their views about the problems with the green paper and if the Government does not rethink its approach, it runs the risk of letting down future generations too.'
Matthew Reed, chief executive of The Children's Society, also said the green paper 'falls short'.
'Hundreds of thousands of young people are struggling with mental ill-health and these proposals fall short of what is needed to urgently tackle long waiting times and shortcomings in support,' he said.
'As little as one fifth of the country would benefit from the planned pilot schemes, meaning the current postcode lottery will continue for the foreseeable future and it could be years before the changes are rolled out.'