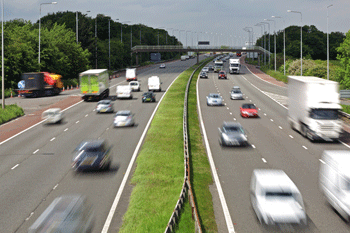 The Government is 'blatantly ignoring' safety concerns over its plans to convert motorway hard shoulders into lanes, MPs claim.
The Department for Transport forecast last year that traffic on the strategic road network would increase by up to 60% by 2040.
In order to ease congestion, Whitehall has proposed the introduction of an 'all lane running' scheme on the M4 that would see hard shoulders converted into lanes. This would also save having to expand motorways.
However, in a report published in June 2016 the Transport Committee warned there were 'major safety concerns'.
They argued abolishing hard shoulders constituted a 'radical change to the nature of motorways' which would create 'a real challenge for motorists.'
The committee also voiced concerns about the size and spacing of Emergency Refuge Areas.
Despite the warnings, ministers plan to press ahead with the scheme. Plans are in place to permanently convert the hard shoulder into a running lane on around 300 miles of motorway.
Highways England also has a £6bn programme of 30 all lane running schemes, spread over the next nine years.
'The Department for Transport is blatantly ignoring the safety concerns set out in our report,' said committee chair, Louise Ellman.
'We had barely received the response to our report before the Government endorsed an all lane running scheme on the M4.'
Ms Ellman said the committee agreed with the Government's position that the UK's motorways required more capacity. She also acknowledged that some improvements to motorways - the M42 scheme, for example - were useful.
However, she said the Government's argument that motorways are the same as other roads was flawed.
'We take real issue with the Government's assertion that all lane running schemes on motorways are no different to other types of roads without hard shoulders,' she said.
'Motorways are a different class of road and drivers have different expectations when using them.'
'We are not the only people who are worried about this incarnation of all lane running schemes,' Ms. Ellman added.
'In the course of our inquiry, there were genuine concerns raised by the emergency services, road workers and recovery operators. The Government cannot ignore them.'