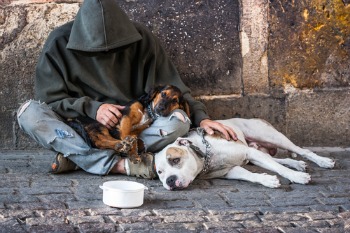 Council leaders have welcomed the government's £100m strategy to end rough sleeping by 2027 but warned it is only the 'tip of the iceberg'.
The funding will enable up to 6,000 vulnerable people to receive rapid, specialist support, and help people to move into suitable permanent accommodation.
Communities secretary, James Brokenshire, said: 'Whether people are at risk of rough sleeping, already on the streets or in need of settled accommodation, we now have a solid plan to help the most vulnerable in our society.
And this is not just about putting a roof over their heads but helping them find a place to call home. They need and deserve our support and, through our expert-backed strategy, I am confident they will get it.
The Local Government Association (LGA) said the strategy was a 'positive first step' but called for councils to have the power to build more social homes and for welfare reforms to be reviewed.
Lord Porter, LGA chairman, said: 'This strategy is a positive first step towards helping councils in their efforts to tackle rough sleeping. In particular, it is good to see other government departments with responsibilities for areas such as employment, mental health and justice begin to acknowledge their critical role in reducing rough sleeping.
'However, we must go much further, much faster. Rough sleeping is only the tip of the iceberg - right now, councils are currently housing over 79,000 homeless families and 123,000 children in temporary housing.
The new strategy includes funding for pilots to help those leaving prison find stable accommodation, intensive support for those with complex needs leaving care, health services for people sleeping rough, and flexible support provided exclusively for people with a history of sleeping rough.
In response to the announcement, seven housing and homelessness organisations who were part of the strategy's Rough Sleeping Advisory Group issued a joint statement: 'For the strategy to work, the government must also set out bold, cross-departmental plans to tackle the root causes of all forms of homelessness, and prevent it from happening in the first place.
'This must include plans to build significantly more social housing, to foster greater security for renters, to ensure people have access to benefits and other support they need to help them keep their homes.
'We also need to see a reversal of policies that leave migrants homeless and destitute, and healthcare, mental health and substance misuse services that are available and truly accessible to those who need it.'