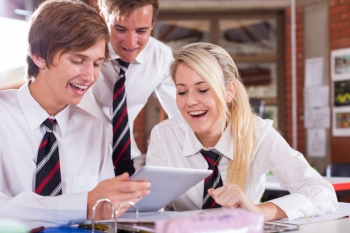 White working-class pupils have been 'let down and neglected' by the education system for decades, MPs have warned today.
In a new report, the Education Committee found White British pupils eligible for free school meals persistently underperform compared with peers in other ethnic groups.
It warns that only a proper targeted approach will reverse the educational underachievement 'of this long forgotten disadvantaged group'.
Robert Halfon, chair of the committee, said: 'For decades now White working-class pupils have been let down and neglected by an education system that condemns them to falling behind their peers every step of the way. White working-class pupils underperform significantly compared to other ethnic groups, but there has been muddled thinking from all governments and a lack of attention and care to help these disadvantaged White pupils in towns across our country.
'If the Government is serious about closing the overall attainment gap, then the problems faced by the biggest group of disadvantaged pupils can no longer be swept under the carpet. Never again should we lazily put the gap down to poverty alone, given that we know free school meal eligible pupils from other ethnic groups consistently out perform their White British peers.'
The also report urges the Government to find a better way to talk about racial disparities, warning terms like White Privilege are divisive.
A Department for Education spokesman said: 'This Government is focused on levelling up opportunity so that no young person is left behind.
'That's why we are providing the biggest uplift to school funding in a decade - £14bn over three years - investing in early years education and targeting our ambitious recovery funding, worth £3bn to date, to support disadvantaged pupils aged two to 19 with their attainment.'