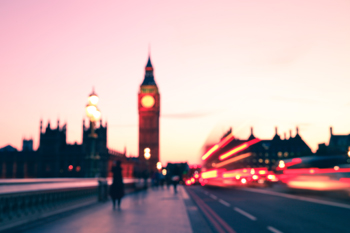 Travelling into London's centre last summer and autumn, even before the second lockdown, was described as like visiting the capital at 8am on a Sunday morning; the underground quiet, the streets deserted, cafés and restaurants shut. The collapse in tourism added further to the hollowing out of one of the world's busiest cities. What happens to London is important to the rest of the UK as the capital's taxes subsidise many areas of the country.
One inner London chief executive told The MJ/BT round table how office occupancy rate in parts of her borough at one point hit just 6%, while the beleagurered tourism economy was usually worth £11bn. Many businesses 'were on their knees.' Another chief from an outer London borough said that 22% of local jobs were on furlough, while unemployment was 5%. He added: 'We have an over reliance on retail which makes up 38% of jobs, and then 38% of jobs which are part-time. People affected mostly by this recession will be young people, women, those with disabilities, and Black, Asian and minority ethnic groups.' Although there were signs of recovery, he did not expect London to return to pre-crisis levels for three years, commenting 'there are choppy waters ahead.'
Another chief executive from a suburban borough said: 'When you force people to change their behaviour, suddenly you start a chain of events which changes the way society operates for many years to come. We're in the middle of that and not yet in a place where we can see where this will take us. Our economy is based on people who earn money by commuting into the centre and they haven't been doing that. There's a domino effect on the high street. Mid-range shopping will largely transition to online. High end shopping will stay visible. The hospitality industry will take years to recover.'
Another chief said: '40% of our working age population are furloughed, there's a threefold rise in people on Universal Credit plus issues with the business rate will leave a big deficit at a time when we have the highest number of requests for council tax reductions.' Another chief pointed out that 'some of what we've seen in the pandemic will be unique, some of it will accelerate long-term trends which predated the pandemic.'
For most staff the biggest change was the almost total reliance on technology as they transferred their workplace from the office to the home. Martin Tufft of BT said there was a 'massive influx in demand on our networks but we managed to accommodate that uplift'. The participants all said their own councils, and their residents, had adapted swiftly to the new business environment. One said: 'We were surprised in our safeguarding arena that some families found it easier doing virtual meetings. Some young people said that on a screen "all the boxes were the same size and everyone got a chance to speak."'
Another chief said: 'Of our 2,800 staff 2,000 have been working from home most of the time and most have said they'd be very comfortable working from home for next three or four years but preferably three days at home and two days in the office. There's no real reason local government will be radically different from people who work in other industries.' His council had been wondering how to accommodate staff and arrange flexible working once it moved out of its civic building but the lockdown showed the way, with the technology also working well.
Another said: 'We've been trying to get staff to work remotely for years but when there's a genuine need they just do it and find they like it. More of our staff want to be at home for longer though we do have an older workforce with an average age of 48. We've commissioned a review of our ICT offer to see what changes there will be with more people working at home.'
One chief said she had 'never been prouder' of her staff adding: 'There was no template about how to rise to the challenge. Our staff, so often termed jobsworthies, have shown creativity and ingenuity in tackling a whole range of issues and have been flexible to the point of being double jointed. We're juggling 27 different grant schemes, had to get staff out, then in, then out again, our auditors packing foods, our librarians in our community hubs responding to shielding.' Another commented 'we're down to 30% usage in our office and I regard that as pretty permanent.'
Simon Haston of BT said that: 'COVID hasn't brought in any new technology but has brought a massive cultural change and digitisation is reaching areas it didn't reach before, especially in the home.'
The big question is what the post-pandemic future will look like. One chief said: 'It's inevitable central London won't go back to where it was before. So many offices have reduced their footprint, so many have decided to pull out or significantly reduce their space. It won't get back to where it was.' For millions of commuters travel was the big downside of London living and their lifestyle has improved. As one chief said: 'We need to challenge ourselves about what people want from their city. Relentless growth isn't necessarily what they want. The daily commute is one of the most damaging things to health and wellbeing, especially over long distances. Now it's been removed it's not entirely surprising people have enjoyed the experience and don't want to see this return. It doesn't matter what we think, it's what people think. It's an unstoppable force.'
The pandemic reduced pressure on the capital's overcrowded transport system but as one chief pointed out: 'We spent years trying to get people out of their cars and into public transport. Now we're telling them it's not safe to travel on transport with other people but we're not thinking ahead about congestion or about patterns of work or whether the current infrastructure will do the trick.'
The collapse in commuting into central London offices had a reverse impact on outer London boroughs. One chief commented that 'We have to think of the different impact between the central activity zone which is desolate and outer London areas which are doing well.' Another added: 'London always was a polycentric city, a metropolis but with local communities and this has become more accentuated during 2020. Focusing on the quality of the local town centre, local area, that trend is longer term.'
One suburban borough chief predicted opportunities, saying: 'We're getting interest from developers interested in building hubs for leisure and offices. Housing prices have had an uptick. There are a lot of inter-war houses with gardens in our borough and as people are working from home, estate agents say people are looking for these type of properties.' One chief said: 'If people are anchored in their place that's good but the challenge is in planning and housing. We're building things we thought we needed three years ago. We need fewer offices and more homes. If all my staff are working from home what is their connection with the place they serve if they don't live in it? If we have no community ourselves what are we offering to our communities?'
One chief said flexible working raised questions about London's global competitiveness post-Brexit saying: 'We need to think about where we are in the international space. Where is international trade going to shift? We're one of the worst managing COVID; what does this mean about businesses wanting to come here? Why would you need to be in London when you can be in your home in Berne, Basel or Shanghai? The combination of this and Brexit means businesses in our cities will be very different in the future. The next fallout after furlough is employers saying "why am I paying UK rates?"'
One chief said some of his staff jokingly asked whether they might work from Barbados. Another chief said if this were to happen then with boroughs often poaching from each other 'sooner or later I too would have to allow my staff to work in Barbados.' But one chief said not all staff could work from home, saying: 'Don't forget you're not doing homecare on the internet, or health and social care, or getting your hair done. We mustn't forget them as well as those dialling in from Shanghai.'
The pandemic also highlighted the inequalities in the capital, with one chief saying: 'Lockdown one felt like we were one city. More recently we've been reminded of the differences in London. It reminds us we're multiple places rather than one place.' Another added: 'One of the silver linings of this pandemic is it has shone a light on inequalities in London and there has been a genuine and sincere attempt to start tackling that. I hope this won't end up in the long grass.'
Participants
Helen Bailey – Chief executive, Sutton LBC
Fran Beasley – Chief executive, Hillingdon LBC
Ged Curran – Chief executive, Merton LBC
Paul Martin – Chief executive, Richmond and Wandsworth LBCs
Paul Najsarek – Chief executive, Ealing LBC
Jenny Rowlands – Chief executive, Camden LBC
Ian Thomas – Chief executive, Kingston RLBC
Andrew Travers – Chief executive, Lambeth LBC
Martin Tufft – London, South and East public sector director, BT Enterprise
Simon Haston – Principal technology partner, devolved government, BT Enterprise
Michael Burton – Editorial director, The MJ (chair)
Martin Tufft of BT comments on the debate
The pandemic has seen London boroughs adapt at an unprecedented pace and scale. This fantastic debate highlighted the breadth of challenges faced by the capital as we move forward into the new year – navigating health, social and financial challenges as we build toward a better future. We want to help local authorities bridge that chasm; arming them with the evidence, the confidence and the partnerships they need to build back better and use technology to do it.
Improving local connectivity and digital infrastructure will play a critical role in this recovery – driving economic growth and job creation, whilst also supporting the creation of a more cared for society and new, low carbon innovation. At BT, we work with nearly two-thirds of councils up and down the country and are partnering with local government to create more cost-effective digital services, solutions that support pollution control and automated traffic management. And innovative remote diagnostic technology that enables improved delivery of care – to more people, more often and in more places.
Our vision is to partner with local authorities to create a digital fabric for the next generation of public services; a foundation of ubiquitous connectivity (fibre, wifi and 5G) that supports inclusive growth and is reusable, scalable, future-proofed and flexible. The ability to be agile and innovate quickly will be crucial to navigating the headwinds faced by councils in 2021.
Digital connectivity is key to delivering smart towns and cities, and by bridging 'digital divides' through access and availability, places can also become more equitable.
But this access must be paralleled with support schemes and training programmes that arm people with the skills and confidence to make the most of technology in both their home and work lives. Our Skills for Tomorrow programme is designed to support communities, from school children, jobseekers and small businesses, to older and more vulnerable members of society.
To find out more, please get in touch at martin.tufft@bt.com