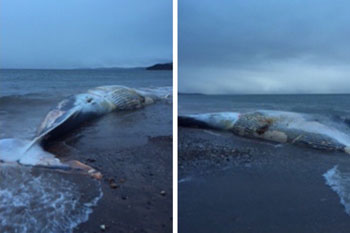 The carcass of a whale washed up on a Devon beach will be used to create biofuel.
Teignbridge District Council said the 30ft fin whale - which was washed up on Red Rock Beach on Thursday morning - has been taken to a rendering plant to remove the oil from the carcass.
Councillor Humphrey Clemens said: 'Work has now been completed to safely recover and remove the whale carcass, with health and safety a key consideration throughout this unusual and unfortunate situation.
'It will be taken to a rendering plant where the oil will be squeezed out of it and the carcass cooked down.
'The whole carcass will be used for bio fuels.'