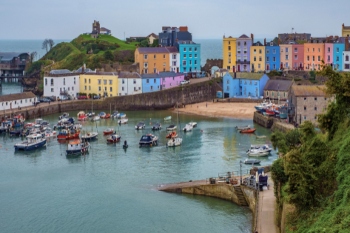 Welsh councils will be given new powers to limit the number of second homes in their community under plans revealed by the First Minister.
Changes to the planning rules, due to be introduced by the end of the summer, will introduce three new classes of property – a primary home, a second home and short term holiday accommodation.
Planning authorities will be given power to control the number of second homes and holiday lets in their communities and will require planning permission for a change to classification.
The new rules, introduced by Mark Drakeford and Plaid Cymru leader Adam Price, will also create a licensing scheme for visitor accommodation and work has started on a national framework so councils can
Mark Drakeford, and leader of Plaid Cymru Adam Price, announced changes to planning rules and are now working on proposals for a Land Transaction Tax on the purchase of second homes and holiday lets.
Welsh council have also been given power to increase council tax on second homes by up to 300% from next year.
Launching the proposals, Mr Drakeford said the plans were part of a 'radical programme' to give people the chance to live in their own community.
'Tourism is vital to our economy but having too many holiday properties and second homes, which are empty for much of the year, does not make for healthy local communities and prices people out of the local housing market,' he said.
'We do not want to create any unintended consequences, which could destabilise the wider housing market or make it harder for people to rent or buy.'
Mr Price added: 'We are committed to using a range of planning, taxation and property levers to tackle the issue of second and unaffordable homes – and to do so with urgency.'