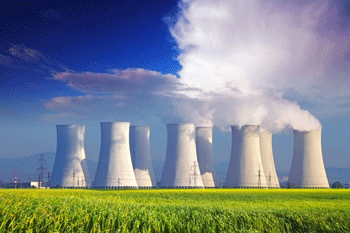 The Isle of Anglesey County Council has expressed 'profound disappointment and concern' at Hitachi's decision to suspend the construction of a nuclear power plant in north Wales.
The Japanese firm, which owns the company running the plant Horizon Nuclear Power, has stopped work on the £13bn project at Wylfa Newydd in Anglesey due to the cost of the project.
Hitachi made the announcement after the failure of discussions between itself, the UK Government and Tokyo.
'Unfortunately, despite the best efforts of everyone involved the parties have not been able to reach an agreement to the satisfaction of all concerned,' a company statement said.
'As a result, Hitachi has decided to suspend the project at this time from the viewpoint of its economic rationality as a private enterprise, as it is now clear that further time is needed to develop a financial structure for the Horizon Project and the conditions for building and operating the nuclear power stations.'
Anglesey council leader, Llinos Medi, expressed her 'profound disappointment and concern' that plans for Wylfa Newydd had been suspended.
However, she said she remained 'hopeful' a deal between Hitachi, Whitehall and the Japanese government could be reached.
'I am in regular contact with Duncan Hawthorne, the Horizon chief executive,' she said.
'The council continues to work closely with the Welsh government minister, Ken Skates, in pressing the case with the UK Government for this delay to be overcome so we can secure much needed well-paid jobs and business opportunities for years to come.
'Despite this, my main concern is the immediate impact on local men and women whose employment is at risk as a consequence of this suspension, especially those at the Wylfa Newydd site in North Anglesey.'
Major projects and economic development portfolio holder, Cllr Carwyn Jones, added: 'Wylfa remains the UK's best site for new nuclear build and we remain a willing host community. These are critical factors, which have been acknowledged by senior Hitachi executives during "face to face" meetings.
'As a council, we will therefore leave no stone unturned in working with Horizon, their Hitachi parent company and both the UK and Welsh governments to secure at the earliest opportunity positive and satisfactory outcomes for all concerned. We remain firmly committed to a new development at Wylfa.'
Responding to the announcement, Cllr Rob Stewart, the Welsh Local Government Association spokesperson for economic development and energy, said: 'This news today is very worrying for the economy of north Wales and the many young people who were promised jobs as a result of the Wylfa Newydd project.
'For the sake of business confidence, and certainty for many people in the affected local communities, it is important that Welsh and UK governments join local government in urgently pressing to overcome the delay.
'WLGA is working closely with north Wales local authorities, in particular the Isle of Anglesey County Council, to support their efforts in making the case for this project which is of great strategic importance.'