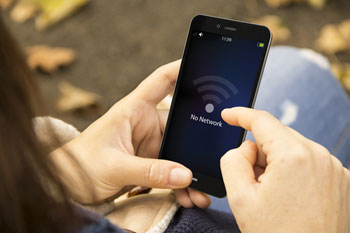 Eight in ten areas in the UK suffer from patchy 4G mobile coverage, new research from Which? has revealed.
The study found that 80% of constituency areas lack full 4G coverage from all four major operators.
It found that even large towns and cities such as Brighton, Cardiff, Leeds and Essex are at risk of mobile signal blackouts.
According to the figures, the most poorly-served city-based constituencies were Rochford and Southend in Essex, South West Devon, and Romsey and Southampton North in Hampshire.
The worst affected town-based constituencies for mobile coverage were Clwyd West in Wales, Barrow and Furness in Cumbria, Ribble Valley in Lancashire and Scarborough and Whitby in North Yorkshire.
Which? is calling on the government must stick to its 95% target and ensure it includes 4G coverage from all four operators.
Caroline Normand, Which? director of advocacy, said: 'Millions of people are finding it difficult to get a reliable mobile connection and risk missing out on digital services we increasingly rely on like online banking, maps and NHS information – while some even struggle to receive important calls and messages.
'To tackle this unacceptable and widening digital divide, the government must act now to connect the UK with truly comprehensive mobile and broadband by swiftly putting in place a plan to give communities the infrastructure they need.'
A separate survey by the consumer body also found half (49%) of people said they experienced patchy mobile phone signal at least once a month.