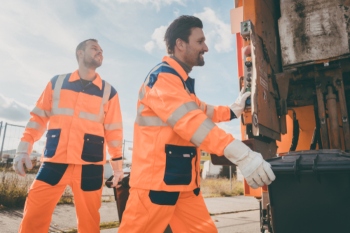 Local authority waste services across the country are continuing to feel the impacts of COVID-19, a new survey has revealed.
The poll by the Association of Directors of Environment, Economy, Planning and Transport (ADEPT) has found that collection services are being affected by staff absences, with 44% of the respondents reporting absence due to self-isolation and 31% due to sickness.
Social distancing measures are also reducing collection teams' capacity, with 38% of responding councils identifying this as a reason for disruption.
The survey was carried out during the first week of March and received responses from 87 local authorities. It was run in collaboration with the Department for Environment, Food and Rural Affairs (Defra), the Local Authority Recycling Advisory Committee (LARAC), the Local Government Association (LGA) and the National Association of Waste Disposal Officers (NAWDO).
ADEPT found that food waste collections are the worst hit. According to their survey, 35% of collection authorities reported problems, with 21% reporting minor disruption to core refuse collection services and 23% reporting minor or moderate disruption to core recycling collections.
Conversely, garden and bulky waste collection service provision has improved significantly over the second half of February.
There has been a big increase in reported disruption to Household Waste Recycling Centre service provision, with only 31% of councils reporting this service to be operating normally. The main reason given is the impact of social distancing requirements limiting site capacity.
The survey also reported on changes in waste arising over the past year. Some waste streams, such as bulky and garden wastes, saw a drop-off during the first lockdown when collection services were most heavily disrupted.
There are more sustained changes, however, with councils reporting residual (black bag) waste, recycling, food and garden waste tonnages consistently higher than pre-COVID.
'Waste services continue to experience levels of disruption mostly due to the impacts of staff absence, whether through sickness or self-isolation,' said Steve Palfrey, chair of ADEPT's Waste Group.
'The fact that the volume of domestic waste and recycling has increased significantly almost certainly reflects the shift in workplace pattern, with many more people consistently working from home over the past year. This is borne out by a corresponding reduction in commercial waste, reflecting the impacts of lockdowns and social distancing requirements on business premises.'
He added: 'Again, I would like to thank our teams for working so hard through such a lengthy lockdown period to maintain services despite such difficult circumstances.'
ADEPT told LAPV how local authorities rose to the challenge of maintaining waste services through the early days of a global pandemic.