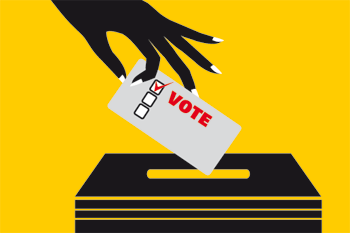 Voters in five local authorities will have to prove who they are before they can cast their vote in council elections next May, the Government has announced.
Next year's trial in Woking, Gosport, Bromley, Watford and Slough is likely to be the first in a series of pilots before a decision is taken on whether or not to extend it nationwide.
In addition Tower Hamlets in east London where the mayor Lutfur Rahman was removed from office and a poll declared void after he was found guilty of electoral fraud will also pilot a new postal voting system.
Minister for the constitution Chris Skidmore said people needed confidence that elections were protected against any threat or perception of electoral fraud.
The move comes after reports of alleged electoral fraud through voter impersonation more than doubled between 2014 and 2016.
The Electoral Commission welcomed the move as a 'positive first step' but Labour claimed it would make it harder for people to vote.
The form of identification required will be set by the councils, but the pilot will trial photo and non-photo ID to find out which is most effective.
Mr Skidmore said: 'It is harder to take out a library book or collect a parcel at a post office than it is to vote in someone's name.
'I am very hopeful that by taking a careful evidence-based approach in these pilots we will be able to roll out ID in polling stations at future elections.'