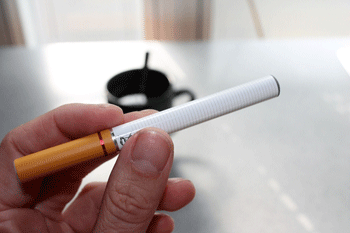 Only a small proportion of young people are regularly using e-cigarettes, according to the findings of a new report.
The study, by researchers at King's College London for Public Health England (PHE), found only 1.7% of under-18s vape at least once a week. Only 0.2% of these have never smoked.
The report also found levels of vaping has plateaued among adults, with it being largely confined to smokers and ex-smokers.
Professor John Newton, health improvement director at PHE, said: 'In contrast to recent media reports in the US, we are not seeing a surge in e-cigarette use among young people in Britain.
'While more young people are experimenting with e-cigarettes, the crucial point is that regular use remains low and is very low indeed among those who have never smoked.
'We will keep a close watch on young people's vaping and smoking habits to ensure we stay on track to achieve our ambition of a smoke-free generation.'
A separate clinical trial found that the use of e-cigarettes, when combined with face-to-face support, are up to twice as effective for quitting smoking as other nicotine replacement products. However, only 4% of quit attempts through Stop Smoking Services in England are made using e-cigarettes.