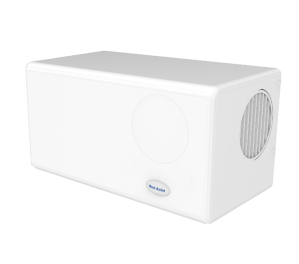 Offering a totally new way of thinking about Positive Input Ventilation (PIV), Vent-Axia's innovative new Lo-Carbon PoziDry Compact Pro is the ideal solution for combating condensation and mould in problem properties without a loft. Ultra small and light, the unit can fit in the smallest of spaces and a removable inner cartridge makes installation and maintenance a breeze.
Vent-Axia has spent considerable R&D time thinking outside the box to come up with an innovative solution inside the box. The unique PoziDry Compact Pro has been designed to be the smallest on the market, making it easy to install even in the tiniest apartments. Half the size of conventional boxed PIV units the PoziDry Compact Pro is still powerful enough to effectively tackle condensation and mould. With the unit's cross section measuring only 200mm by 200mm the PoziDry Compact Pro is so small that it can fit inside the decorative boxing that is used to cover its ducting.
Due to its clever product design the PoziDry Compact Pro boasts quick and simple installation for contractors. Featuring a removable inner cartridge, the PoziDry Compact Pro's foam back plate weighs less than 100g ensuring there is no need for installers to lift a heavy metal box above head height to mark drilling holes. Plus, with two inlet and outlet positions the PoziDry Compact Pro can be installed horizontally or vertically in 16 orientations giving contractors the ultimate installation flexibility allowing the unit to be fitted in the best place every time.
"For those properties that do not have a loft, the Lo-Carbon PoziDry Compact Pro provides an easy to install solution that is visually unobtrusive and offers huge space saving benefits in already small homes" said Tom Wodcke, Product Marketing Manager at Vent-Axia. "Additional benefits include low noise levels, high energy efficiency and a removable inner cartridge for easy repairs and maintenance."
The PoziDry Compact Pro's unique replaceable cartridge reduces waste and disruption of re-install. With all the critical components of the unit located on one central and easy to replace cartridge, repairs and replacement are made easy. Installers simply unplug and remove the central cartridge, leaving the ductwork and back plate in-tact. This means the ductwork, wiring and mounting are left undisturbed during re-installation so the decorative condition of the home is left untouched. By only replacing the inner cartridge there is less plastic waste and less fuel for shipping, thus lowering the installation's carbon footprint.
Providing fresh, tempered air into the home the PoziDry Compact Pro unit creates an indoor environment where condensation and mould find it hard to exist, benefiting occupants and avoiding the damaging effects on the building. Air is drawn into the PoziDry Compact Pro unit via an external inlet and through a short length of duct. The specially developed power pack cartridge assembly draws the air through an integral, high capacity, washable G4 or F7 filter. The fresh, filtered air passes along the ducting and enters the room through a discreet rotatable grille which can be turned to one of 8 positions ensuring that the airflow is always directed upwards, reducing cold draughts.
Ultra-low sound levels and increased energy efficiency are guaranteed thanks to the PoziDry Compact Pro's anti-vibration EPP body which makes the unit condensation resistant too. It also has a precision engineered forward curved centrifugal impellor assembly, further reducing noise levels to as low as 11dBA. Highly efficient the PoziDry Compact Pro has flow rates adjustable in 1l/s increments up to 30l/s and features a dc motor which allows it to run as low as 4W resulting in extremely low running costs - from less than 9p per week.
Boasting Smart Sense™ intelligent technology, the PoziDry Compact Pro also reassuringly records usage, energy consumption and filter life to ensure the unit has been used as intended. This is secured by an installer-enabled 3-digit lock to make the PoziDry Compact Pro tamper free. If a ventilation unit is tampered with it will not deliver the air performance required, potentially leading to condensation and mould which can cause costly damage to the fabric of the building as well as poor indoor air quality which could result in health problems for residents. Vent-Axia has therefore designed the PoziDry Compact Pro's interface so that it is lockable at installation, making it tamper proof to ensure consistent ventilation, giving landlords peace of mind that the settings have not been altered.
To help ensure resident comfort in the summer the Lo-Carbon PoziDry Compact Pro will automatically switch off if the ambient temperature exceeds 27°C to prevent over-heating. This temperature threshold can be adjusted at installation. Meanwhile, with the unit's integral 300W heater version, the heater element is automatically activated when necessary and tempers the supply air to a chosen temperature.
The PoziDry Compact Pro offers the perfect solution for smaller hard to cure condensation and mould properties by preventing moisture build-up within the home and improving IAQ. At Vent-Axia we are so confident in the quality of the product we are offering our highest level of guarantee with the PoziDry Compact Pro boasting a 7-year warranty, protecting residents' homes from condensation and mould and offering peace of mind.
For further information on all products and services offered by Vent-Axia telephone 0844 856 0590 or visit www.vent-axia.com.