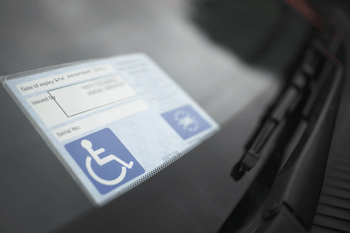 The number of Blue Badges being stolen has increased by 167% in the past year, town hall chiefs are warning.
The Local Government Association (LGA) said the number of thefts has risen from 656 in 2013 to 1,756 in 2014, despite councils' efforts to crack down on fraudsters.
Councils prosecuted 565 people for stealing or illegally using Blue Badges in 2014, with some local authorities setting up specific enforcement teams to tackle the problem.
The LGA highlighted examples of thieves breaking into cars and retirement homes to steal Blue Badges, using their ill-gotten gains for free parking or to sell on the black market.
Cllr Peter Box, LGA transport spokesman, said: 'Callous Blue Badge thieves and unscrupulous fraudsters using them illegally are robbing disabled people of this independence. It is staggering how low some people are stooping simply to con a few hours of free parking and alarming to see thefts rising so significantly.
'Despite limited resources, councils will continue trying to crackdown on this crime and will not hesitate to prosecute drivers trying to abuse the system.'
Someone fraudulently using a Blue Badge could avoid more than £6,000 a year in parking charges based on the average price of £3 per hour for 40 hours a week.