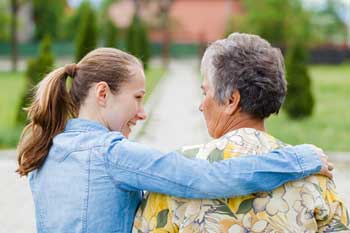 More support is needed for unpaid carers who are being 'pushed to breaking point', local government leaders in Wales have warned.
The Welsh Local Government Association (WLGA) says more investment in local services is essential to cope with a surge in demand for care services and support.
It says there are about 370,000 unpaid carers in Wales who provide support worth an estimated £8.1bn a year.
A survey showed three quarters have suffered mental ill health such as stress or depression while nearly two thirds reported a decline in their physical health and nearly half expected their quality of life to get worse in the next year.
More than a third said they were struggling to make ends meet, with many having to cut back on hobbies, leisure activities and seeing friends and family.
WLGA spokesperson for health and social care Huw David said: 'If carers are not appropriately supported it can lead to increased social isolation and add to pressures on both the carer's finances and their health and wellbeing.
'It is clear that we must do more towards tackling the inequalities that are experienced by carers, while supporting the whole population with their health and social care needs.'