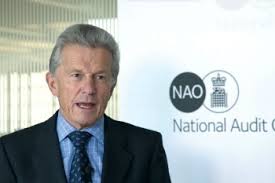 Delays to the Coalition's flagship Universal Credit scheme risk creating a multi-million pound bill for the taxpayers, auditors have warned.
Analysis by the National Audit Office (NAO) finds Department for Work and Pensions (DWP) efforts to reset its welfare reform scheme in 2013 have 'significantly extended' the timetable for introducing the single benefit nationally – which merges six means-tested payments for working age households.
Concerns raised about the project's viability early last year prompted adoption of a 'twin-track' approach to its IT footing.
While the DWP believes societal benefits will ultimately validate the additional cost of such an approach, the NAO today concluded such potential benefits 'do not mean Universal Credit will be value for money regardless of how it is implemented and the cost of doing so'.
The DWP was ultimately forced to extend its timetable for the programme after fears it was unlikely that over one million tax credits claimants could be transferred to the system by April 2016 as planned.
Since the reset, a 'test and learn' approach has seen the department rolling out its live service while simultaneously developing the digital service.
Yet the NAO stated delays to the programme's digital service meant the current timetable remained 'challenging'. Auditors also pointed out that no contingency plan was currently in place should the digital service fail.
It is predicted that the DWP could be forced to pay an additional £2.8bn in staff costs if it was to use the live systems instead of its digital service.
Amyas Morse, head of the National Audit Office, said: 'The DWP has reset Universal Credit on a sounder basis but at significant cost, by extending the time for implementation and choosing a more expensive approach. It is now vital that the department quickly establish clear goals for delivering the programme, in terms of cost, time and functionality, against which it can be held to account.'
Commenting on the report, Margaret Hodge, chair of the committee of public accounts, said: 'The Department's unacceptably poor management of this programme has wasted time and taxpayers' money, with a staggering £600m spent in 4 years just to get to the first stage of business case sign-off.
'Now the department is throwing good money after bad by introducing a short-term fix with no adequate plan for delivery, insufficient skills and unclear milestones to measure progress against. The transfer of all claimants on to Universal Credit will not now be completed until after the end of 2019.'
A DWP spokesman said the economy would benefit by £7bn each year once Universal Credit was fully adopted, with three million families being on average £177 a month better off.