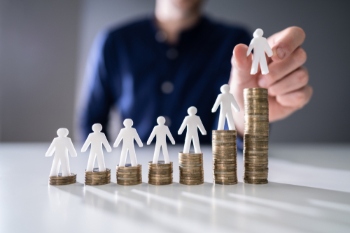 The UK's biggest union has called on Chancellor Rishi Sunak to fund an above-inflation pay rise for public sector workers.
Ahead of tomorrow's spring statement, general secretary of Unison Christina McAnea warned that the cost-of-living crisis has led to many Unison members struggling to feed their families, pay rent and mortgages, cover energy bills, and buy petrol.
'Even before the Russian invasion of Ukraine, fuel and energy prices were already increasing at the fastest rate in a generation, and the war has only exacerbated this,' she wrote in a blog post.
'Nearly a third of UK households are forced to choose between heating and eating, and almost half of the UK's children are in households that can't meet the costs of basic necessities.
'But it's not too late – if the chancellor makes the right choices.'
Ms McAnea called for Mr Sunak to end the public sector pay freeze, increase the national minimum wage and the living wage, scrap planned tax rises for workers, and reinstate the universal credit uplift.
She also called for 'meaningful' action on the costs of energy, fuel, food, housing and childcare.
'Even though public sector workers have been the force that has carried our society through the pandemic, they now stand to carry the heaviest financial burden,' Ms McAnea wrote.
'As prices spiral, any wage increase short of inflation is a pay cut. And as the cost-of-living crisis will increase demand on our public services, we need to retain our experienced public sector workforce and recruit more to deal with understaffing. But a pay cut is not an incentive, it's an insult.'