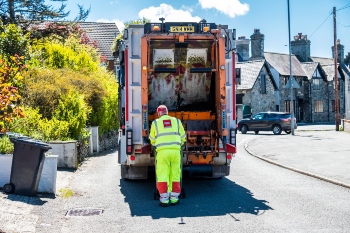 Scottish members of two trade unions have voted to reject a pay offer from councils, raising the prospect of strike action.
A ballot of GMB members returned 93% against accepting the offer put forward by the Convention of Scottish Local Authorities (COSLA) while Unite Scotland voted 83% against, with 80% backing industrial action.
The two unions represent about 34,000 local government members.
They have requested the intervention of First Minister Nicola Sturgeon in the dispute.
COSLA has offered an £800 increase for staff earning under £25,000, a 2% uplift for those earning £25,000 to £40,000 and a 1% rise for those earning up to £80,000.
Unite's Scottish secretary Pat Rafferty said: 'Unite has received an overwhelming mandate to move forward with an industrial action ballot from our members in local government.
'There is palpable anger that local government has become the forgotten section of our public services, particularly after a year of the pandemic.'
GMB Scotland's senior organiser for public services, Drew Duffy, added: 'It's been a wretched year and a desperate decade for council workers, especially the lowest paid and the services they deliver.
'After the applause and all the political platitudes, to recognise their dedication and sacrifice with an increase that won't amount to much more than £10 a week for many staff is derisory, and the message to ministers, politicians on the election train and councils is clear - we're worth more.'
Both unions have called for negotiations to resume with an improved pay offer.
A COSLA spokesperson said: 'We have made an offer to our trade union colleagues.
'This offer remains on the table while we continue with ongoing constructive negotiations.'