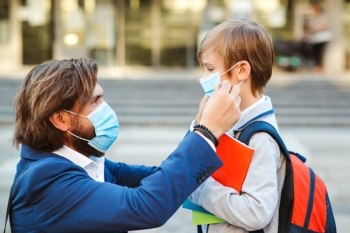 Five education unions are urging local authorities to consider reintroducing safety measures to tackle rising COVID-19 cases in schools.
The unions - GMB, NASUWT, NEU, UNISON and UNITE - will be writing to local authorities and directors of public health asking them to consider measures in their local areas such as the reintroduction of bubbles, social distancing and face coverings in secondary schools.
Patrick Roach, general secretary of NASUWT, said: 'As cases rise, ministers need to look again at supporting schools with onsite testing into the spring term, rather than relying on home testing, which is less effective. There is an urgent need for the Government to consider reinstating the requirement for pupils to self-isolate if they are in close contact with someone who has tested positive.
'Proportionate safety measures and appropriate support for schools are essential in breaking the continuing chain of virus transmission.'
They have also written to education secretary Nadhim Zahawi asking him to urgently reconsider the reintroduction of additional safety measures in schools.
The letter states: 'Many other countries in Europe that have kept in place proportionate mitigation measures in schools, such as face coverings and quarantine of close contacts whilst rolling out a vaccination programme, and have not experienced the back-to-school surge in cases that we have seen in England.
'In addition, a growing number of councils are now using the freedoms they have under the Department for Education guidance to bring in additional mitigations in schools. This reflects their responsibilities for public health, and also under health and safety legislation.'