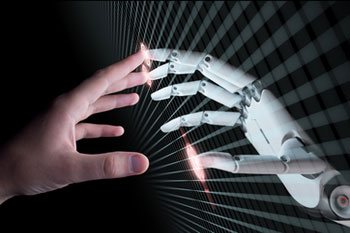 Over the last three months, I've been working closely with a number of local authorities to plan, organise, and implement channel shift and to advise on the digital transformation process.
Like any business or organisation, each local authority has developed its own, unique working culture. Each is a distinct community with its own way of doing things and its own approach to the country-wide challenges that most local government bodies battle with on a daily basis.
Despite this, I discovered a fascinating commonality was shared by all those local authorities I worked with. In every case, chatbots and other AI technologies were viewed with equal parts excitement, interest, and suspicion.
This made me think about the way that AI applications like chatbots are being introduced into a cultural climate that doesn't necessarily understand what the technology is and what it can do.
It made me consider the way we need to challenge misconceptions and change the discourse surrounding chatbots if we're to begin implementing the technology effectively.
How are chatbots perceived?
When working with the various local authorities, the subject of chatbots was always met with enthusiastic curiosity. While some had a clear understanding of what they could do, most employees were unaware of the role they already play in our everyday lives.
In large part, this is why many local authorities have reservations about chatbot implementation. In the absence of AI specialists and experts, inaccuracies and baseless preconceptions are rife.
In other words, there are a number of assumptions made – particularly when it comes to cost, the implications of AI, customer demand, and the readiness of the technology – that do not reflect reality.
Chatbots, time, and money
Within local government, there is often some confusion as to how chatbots can be integrated into existing systems, how long this process takes, and the outlay required to do so.
This hesitation and fear are understandable – local government bodies are working under increasingly tight budgets and have been burned by large-scale tech projects in the past. However, chatbots can help alleviate both of these pressures.
Under experienced guidance, chatbots can be introduced and capable of supporting key service areas within 6-8 weeks. Intelligent implementation involves developing a small but scalable chatbot that targets high-contact areas that are defined by high-repetition enquiry types.
This allows the local authority to cost control against usage and benefits and ensures it has the justification required to further invest in the growth of the technology, when ready. It's exactly the kind of small-scale, incremental IT project that's the future of public sector tech contracts.
Understanding chatbots
Developing the expertise required to successfully implement chatbot solutions is a daunting task. It's what ends up holding back a lot of local authorities. As part of our daily work with local authorities, we're able to identify those areas in which most benefit can be drawn from chatbot technologies. Whether it's deploying them via Facebook Messenger to support the local authorities' social media pages or integrating them into their website to deal with FAQs, we're able to get local authorities the biggest bang for their buck.
This type of guidance and information makes it easier for local authorities to make a strong argument for chatbot implementation and assuages any doubts they may harbour.
Chatbots are the here and now
With chatbots, we're not talking about a theoretical technology that we'll have to wait years to introduce – they're already being successfully applied in customer service contexts across all industries. What we need now, is an open and informed discussion about the role chatbots can and will play in a local government environment.
That means dispelling myths surrounding chatbots and AI, recognising their benefits, and talking about what they can do for local authorities and those employees who provide important public services.
Julian Mead is client services director at Inform Communications