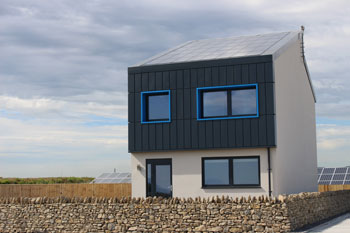 Britain's first 'energy positive' house has opened in Wales, deploying a unique combination of efficient design, power storage and insulation.
Built in 16 weeks in the village of Pyle near Bridgend by a team at Cardiff University, the house is thought to be capable of giving back more energy to the national grid than it uses.
A combination of substantial amounts of insulation, in-built solar panels, low carbon cement and extensive double-glazing on windows and doors has dramatically reduced energy demand and allows occupiers to power their own appliances.
Professor Phil Jones, whose team at the Welsh School of Architecture designed the house, said the academic community now had to 'rise to the challenge' of low energy targets.
'The building demonstrates our leading edge low carbon supply, storage and demand technologies at a domestic scale which we hope will be replicated in other areas of Wales and the UK in the future,' he added.
'Now the house has been built our key task is to ensure that all of the measures that we have put in place are monitored to ensure the most energy efficient use. We will use this information to inform future projects with the aim of ensuring that Wales remains at the heart of the development of a zero carbon housing future.'
Kevin Bygate, chief executive of SPECIFIC at Swansea University – which provided support for the scheme - said: 'Buildings that can generate, store and release their own renewable energy could be a game-changer. The SOLCER House is intentionally built with the best off-the-shelf, affordable technologies, so it proves what's possible even now – and there's plenty more technology in the pipeline.'
Welsh economy minister Edwina Hart said: 'I am delighted to see Wales leading the UK with the launch of this unique property which has the distinction of being the first building of its kind in the UK. It is a great showcase for the technologies being developed in Wales, with the potential to be adopted and replicated in future housing developments across the UK creating wide ranging long term benefits for the economy, the environment and occupiers.'