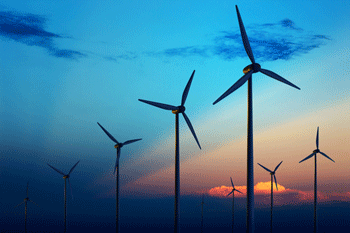 Britain has a 'golden opportunity' to switch to renewable energy sources without increasing the cost to consumers, a national commission has revealed.
It is commonly assumed that moving to renewable energy sources such as wind and solar power would lead to energy prices increasing.
However, a new report from the National Infrastructure Commission has found that switching to low-carbon sources for both power and heating would mean the customer of 2050 would pay the same in real terms for their energy as today.
This would, however, only be the case if the Government commits to investing in low cost renewable technologies, so that these provide at least half the country's generating capacity by 2030.
An estimated 30% of the UK's electricity currently comes from renewable sources like wind and solar power.
The commission's National Infrastructure Assessment — the first ever for the UK — also said the Government should invest £3.8bn between now and 2030 to make the country's social housing stock more energy efficient, as well as do more to promote the use of electric cars.
The National Infrastructure Commission was set up in 2015 to advise the Government on the country's long-term infrastructure needs.
Its chairman, Sir John Armitt, commented: 'Whether for cooking, lighting, keeping homes warm or electric cars on the road, where the UK's energy comes from will need to change radically over the coming decades if the UK is to meet its legally-binding climate change targets.
'If we act now we have a golden opportunity to make our country greener, and protect the money in the pockets of consumers long into the future – something few of us expected to be able to do.
'Ministers can seize this chance by investing in renewables and other low-carbon technologies so they become the main players in our energy system – something that was considered a pipedream as little as a decade ago. But they need to act now to realise the full potential of what can be achieved.'
Responding to the commission's findings, John Acres, president of the Royal Town Planning Institute, said: 'The UK must take better and bolder infrastructure decisions to face the immense challenges and opportunities ahead.
'We need the ambition and scope the Commission has set, but crucially we need to get delivery right. Resourcing planning departments effectively underpins the delivery of almost every recommendation in the report, and is the only way we can get value for money from the proposed investment.
'Planners' strategic skills in joining the dots — be it tackling climate change, increasing renewable energy output or transport planning — and building consensus can make a huge difference in ensuring investment is well spent.
'We urge the Commission to take these recommendations forward with planners at the top table, and to work with all concerned to ensure that Brexit will not adversely impact the skills base, professional standards and supply chain critical to making this vision a reality.'