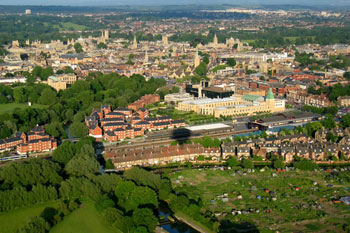 Two district councils in Oxfordshire have agreed to back the county's plans for the creation of a single unitary council, potentially saving up to £100m.
The leaders of South Oxfordshire and Vale of White Horse councils have agreed to work together with Oxfordshire County Council on a joint bid to Government to create a unitary council.
Announcing the decision today, the council chiefs said reduced Government funding and the urgent need for capital investment had made a transformation of local government in the area necessary.
The decision has come after months of disagreements over the nature of future reforms.
The district councils argued there was a strong case for a district unitary and combined authority solution, whereas Oxfordshire insisted a district-based, unitary council was better.
Two independent studies by Grant Thornton and PwC both concluded a unitary arrangement and increasingly joined up services would save £100m over the first five years.
'Two weeks after publishing our draft proposal, I am pleased that three of the six councils are now working together to create a brand new council for Oxfordshire that really will be the best of both worlds - lower cost and more local,' said Oxfordshire CC leader Cllr Ian Hudspeth.
'I hope that other districts and city councils will join us to get the best out of the new council for their areas.
'Most of all we now want to hear what residents think. Once people find out more, I think they will see that one unitary council offers the best way to protect services from future cuts and get the investment in roads and infrastructure that Oxfordshire urgently needs.'
Cllr Matthew Barber, leader of Vale of White Horse District Council said: 'I believe that by working together we can truly transform the way we deliver our services to the people of Oxfordshire for the better.
'The Vale of White Horse District Council will play an important role in developing the final joint proposals for a unitary council ensuring they have a strong local influence and impact and offer our communities value for money.'