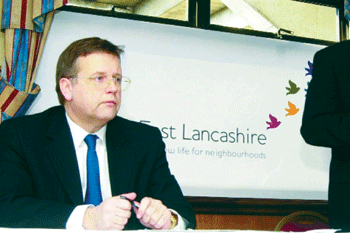 Two existing directors have been appointed by Pendle Council to the top management positions as part of a restructuring plan.
Dean Langton, currently head of central and regeneration services, will become strategic director, which includes head of paid service
He will work with the council leader and take on the role of ambassador for Pendle. He will also be accountable for the strategic and corporate leadership of the council.
Philip Mousdale, currently deputy chief executive, will become corporate director with responsibility for the overall management of the council which includes the roles of monitoring officer and returning officer.
They will work with government agencies and partners to raise Pendle's profile and maximise opportunities for jobs and economic growth.
Chief executive Stephen Barnes (pictured), who has worked at the council from its beginning 40 years ago, is being made redundant.
The council says deleting the post will help reach the £4m in savings it needs to make over the next two years.
The new appointments will come into effect in April next year.
Council leader Joe Cooney said: 'We're delighted to appoint two very experienced senior people into our new top roles.
'We're confident that when Stephen Barnes, our chief executive, leaves in March next year, Dean and Philip will lead from the front.
Both directors will play a key role in taking Pendle forward and will support the restructuring committee to finalise the council's new structure."
He added: 'We'll be very sorry to lose Stephen but by taking this approach we can minimise the impact on frontline services.
'I'm wholly confident that our new management structure will give us the stability and leadership our council needs going forward.'