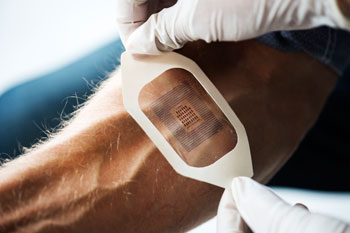 Helping the UK stay healthy on a shrinking budget. It's the major challenge facing health and social care organisations. Managers are looking for a way to cut costs, be more efficient and deliver better services. And digital transformation is the remedy.
That's the case for the London Borough of Islington. We've developed a secure, electronic system that pulls together data from all the different care providers into one place. It allows the borough's 10,000 health and social care professionals to access integrated care records online and get detailed information about their patients' medical consultations and care programmes. Having 100% visibility is helping Islington's clinicians to improve the level of care provided.
Helping your staff connect is the key to digital transformation. Technology can give them instant access to any application on any device, from anywhere. Mobile setups can help community nurses reduce paperwork by 60%, and increase face time with patients by 29%.
The Mid Yorkshire NHS Trust works with us to help its community healthcare workers access the data they need and fill in reports on the go. The result? More time with patients and less time doing admin.
When it comes to digital transformation, you want your organisation to lead from the front. That's where we come in. With Intelligent Connectivity, we'll make it easy for your staff to connect with patients and colleagues. Quickly, reliably and securely. Plus, it's smart. But isn't intelligent the same as smart? We don't think so.
BT: Intelligent Connectivity is where it all begins. Smarter decisions are the end result. from BT Business on Vimeo.
Boost flexibility and control
INTELLIGENT CONNECTIVITY : BOOSTING FLEXIBILITY AND CONTROL from BT Business on Vimeo.
You need a flexible and intelligent system to help you keep pace with change. And the ability to adapt your network at a moment's notice to meet your changing needs. From anywhere. You also need smart software to make sure it happens. We can bring them together with Intelligent Connectivity. To get your people – and your locations – up and running quickly.
Coping with an explosion in traffic
INTELLIGENT CONNECTIVITY : COPING WITH AN EXPLOSION IN TRAFFIC from BT Business on Vimeo.
But with better connectivity comes a boost in data traffic. And this could stretch your network to breaking point. With us there's no need to worry about having enough bandwidth to run multiple apps or download large files. We'll make sure your network doesn't struggle and your people stay connected, however busy it gets. Our hybrid network comes with built-in SD-WAN functionality that's designed to keep work rates up and costs down. Best of all, you're always in control. You can even prioritise your messaging, if you want.
Manage large branch networks
INTELLIGENT CONNECTIVITY : MANAGING LARGE BRANCH NETWORKS from BT Business on Vimeo.
We know time doesn't stand still and neither should your organisation. New ways of working can help multi-site organisations save time and money, too. Employing more staff, expanding into new offices or moving to another location? No problem. Video conferencing makes it easier for health specialists to work together, while wearable technology can be monitored remotely.
Securely manage critical sites
INTELLIGENT CONNECTIVITY : SECURELY MANAGING CRITICAL SITES from BT Business on Vimeo.
We've also taken care of the elephant in the room – security. We embed it into everything we offer. In the background, we'll protect your network and every site it covers. Let us protect your organisation as we do ours.
There's another game changer, too – network functions virtualisation. Quite simply, with a 360-degree overview of your network, you can save money and work smarter by running things like firewalls as software rather than hardware. So you get more control and greater flexibility.
If you need help to shape your digital transformation strategy, speak to us. We're already using our expertise to create smarter digital futures for organisations just like yours.
Discover more: https://bt.com/business/intelligentconnectivity
Danny Longbottom, Director of Local Government and Health, BT