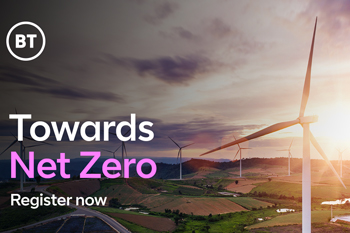 During the coronavirus pandemic, we've seen how technology has enabled new ways to connect, learn, work and live - with solutions that are cleaner, smarter and healthier than ever before. Now the private and public sectors across the UK are planning to build back better.
In June 2020, we launched the Green Tech Innovation Platform. Working with Plug and Play, the world's leading innovation platform, our aim is to uncover the latest technologies that could support us and our customers in the transition to Net Zero.
The partnership marks Plug and Play's entry to the UK market and will explore three areas:
• Smart Streets: Insights from environmental monitoring and traffic optimisation sensors which can be easily integrated into 'street furniture' like the next generation of BT Street Hub units.
• Smart Buildings: IOT capable solutions supporting energy and water management in social housing and other public sector buildings.
• Remote Working: Uncover ways 5G can be used to support innovative products and solutions that will reduce travel, e.g. using video, augmented reality or virtual reality to carry out remote repair and diagnostics by health and other public sector workers.
On 26 January, we are hosting a virtual event showcasing new thinking from the world of technology and the public sector. You will hear from BT experts, such as Dean Terry, the MD for Corporate & Public Sector and Andy Wales, Director for Digital Impact & Sustainability. As well as speakers from across sectors, including Emma Fryer, Associate Director, Climate Change Programmes at Tech UK, Nick Chow, Innovation Associate at Plug and Play and a special guest from University Hospitals Birmingham – with more to be announced.
The Towards Net Zero event will support everyone's understanding of the vital role that technology and working together can play in the UK's green recovery.