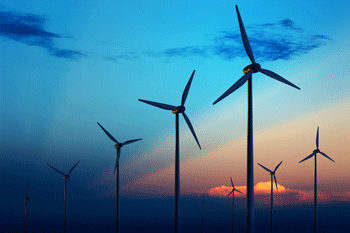 Subsidies for new onshore wind farms will end a year early, the Government has announced - with communities deciding whether any new turbine projects can go ahead.
Energy firms had been expecting an end to subsidies in 2017 but they will now be excluded from the scheme from April next year.
The funding for the subsidy comes from the Renewables Obligation, which is funded by levies added to household fuel bills.
Energy and climate change secretary Amber Rudd said: 'We have a long term plan to keep the lights on and our homes warm, power the economy with cleaner energy, and keep bills as low as possible for hard-working families.
'As part of our plan, we are committed to cutting our carbon emissions by fostering enterprise, competition, opportunity and growth. We want to help technologies stand on their own two feet, not encourage a reliance on public subsidies.'
However trade union Unite branded the decision 'misguided', warning wind was an 'an invaluable component of a balanced energy policy'.
The news came as communities secretary Greg Clark announced local residents must have the final say over whether onshore wind farm applications get the go-ahead in their area.
He said that while onshore wind now makes a meaningful contribution to the energy mix, they are often imposed upon communities without consultation or public support.
New planning rules will mean wind turbines should only get the go-ahead if they have been clearly backed by local people in a local or neighbourhood plan.
Clark said: 'Our One Nation approach is about backing people on the issues that really matter to them and we are today delivering on our manifesto commitment to give local people the final say over onshore wind farm applications.'