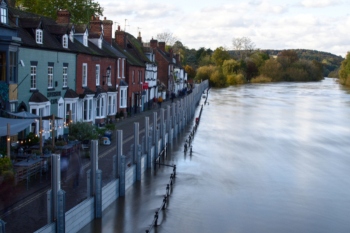 Councils should ensure all planning applications made in flood risk areas are referred to ministers for approval, under new guidance published today.
The Government said that while 97% of planning decisions for residential properties were made in line with Environment Agency (EA) advice last year, 866 homes that were contrary to the advice were granted planning permission.
As part of the Government's Flood and Coastal Erosion Investment Plan, local planning authorities have been reminded to refer these planning decisions to Whitehall.
The Government is also considering how planning decisions in areas at risk from surface water flooding could be subject to the equivalent rules in future.
Communities secretary, Robert Jenrick, said: 'Our planning reforms will ensure that communities across the country know that future developments will be safe from floods.
'This new guidance will help local communities become more flood resilient by providing local authorities with the right tools to consider how flood risk can be prevented when planning for new homes.'
As part of the plan, the Government also announced more than £860m will be invested this year to deliver more than 1,000 flood alleviation schemes across England.
Photo: Alex Daniels / Shutterstock