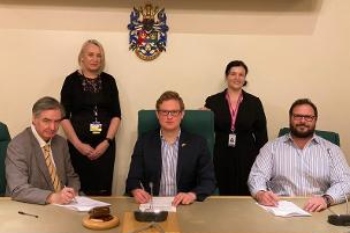 Three Essex councils have agreed to explore further joint working and shared services.
Basildon, Brentwood and Castle Point BC have signed a Memorandum of Understanding (MOU) to explore opportunities for partnership and collaborative working.
It builds on an existing agreement between Basildon and Brentwood to bring together their revenue and benefits services.
Andrew Baggott, leader of Basildon Council, said: 'We commit to explore new opportunities with Brentwood and Castle Point to create a viable service proposition that delivers the best possible outcome for the people of all our boroughs.'
Chris Hossack, leader of Brentwood BC, said his authority looked forward to working with the two other councils, adding: 'The revenues and benefits shared service between Brentwood and Basildon has been incredibly successful since our collaboration began. We proved this during the pandemic in the way we were able to quickly get government support grant cash into business accounts when they needed it most.'
Andrew Sheldon, leader of Castle Point BC, said: 'It's a logical and economically effective way to operate in the current challenging economic climate and our residents rightly expect us to identify ways to provide best value for money.'