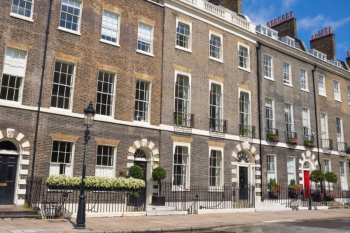 Local residents should be given the power to set their own local development rules at a street level, and share the wealth created by new housing, a think tank has proposed today.
A new report published by the Policy Exchange argues that residents should be able to vote on rules for designs to help foster 'gentle intensification' within about half a mile of existing transport and town centres.
Strong Surburbs estimates this policy could create a further 110,000 homes every year for the next 15 years without the need to build on any greenbelt land.
It also argues local authorities could generate £79,000 for every new property delivered, while the average participating homeowner would make £900,000. It says this would add billions to GDP, with an extra £34bn spent on construction each year.
In the report, Lord Taylor of Goss Moor said: 'Neighbourhood Planning has proven that local communities can engage positively in shaping their community and permitting growth. This paper takes that a step further – recognising that 20th century suburbia has been frozen in time, because there is no way the people who live there can choose or benefit from the evolution of suburban streets.
'Street level democratisation of development is a profoundly important idea that could have a key role to play in addressing both the housing shortage and creating more sustainable and attractive communities. The Government should give careful consideration to these important proposals.'