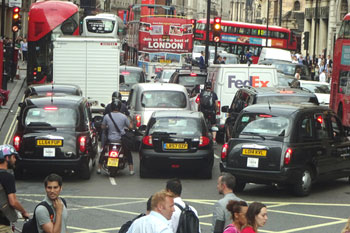 Among the recent rush of initiatives targeted at cutting emissions in UK cities, Scottish first minister, Nicola Sturgeon, since announced plans to make Glasgow Scotland's first low emissions zone. This will eventually result in all but the cleanest-engined vehicles being banned from the city centre.
Oxford City Council and Oxfordshire County Council also put out for consultation plans which, if pursued, will see a zero-emissions zone in place by 2035, covering all non-electric vehicles across the centre of the city. Finally, we have seen the introduction of the T-Charge in London. Targeting buses, coaches, minibuses, vans, HGVs and petrol or diesel cars that don't meet the Euro 4/IV emissions standards, the new enforcement means drivers of these vehicles will be charged an additional £10 per day to drive in the UK capital.
Scoping the challenge
While the objective of these schemes - to improve air quality and reduce emissions - is laudable, issues remain with all three.
Oxford's new initiative, for example, will only be a long-term success if viable alternatives are provided for commuters. It's fine to have a target to reach zero emissions by reducing air pollution, but pushing everyone to buy electric cars may not be affordable. The alternative option of commuting must keep disruption to a minimum and be relatively inexpensive.
The Glasgow scheme has a more realistic starting point, with plans focussing on reducing emissions from city centre buses. That's a positive way of quickly improving pollution levels, without adversely impacting people who regularly commute by car.
However, with subsequent plans focusing on trucks, vans, cars and motorbikes and a fast roll-out expected, motorists are naturally concerned about the future penalties they may face and the future possibility of an outright ban on driving in certain areas. Once again, as with Oxford, this highlights the need to have an alternative commuting option that is both affordable and convenient.
Glasgow is better suited to this task than most UK cities. There's an extensive suburban network of trains in and around the city and bus services are frequent. The more intractable issue with the scheme is likely to be financial. Glasgow is a large city and the level of investment and funding required to make this work long term will be high. The government has already recognised this, providing investment to support upgrades to the bus fleets - but if the scheme is to be a success over the long-run, that kind of investment and level of commitment will need to be sustained over time.
The benefits of London's T-charge are more contentious still. The scheme does encourage drivers to consider the purchase of newer or electric cars. The issue is, however, that the infrastructure in London is not yet ready to accommodate a mass influx of these types of vehicles. For example, electric vehicles will all need regular charging points but they are not currently widely available in central London.
It is also worth remembering that although there is a clear drive for electric cars, we seem to overlook that it is not sustainable for the long term and neither is it pollution free, unless the electricity is generated by an environmentally-friendly method. In addition to this, we must consider whether our current energy infrastructure is capable of handling this extra amount of pressure to supply electricity?
Working Towards Greater Sustainability
Perhaps we should look to continental Europe for a more sustainable approach. When Paris banned cars with even-numbered licence plates for a day in 2014, pollution reputedly fell by 30%. The approach that Paris is taking now to reduce emissions by 2030 appears pragmatic. They have identified a feasible deadline to phase non-electric cars out and there is infrastructure to fall back on if Parisians cannot use their cars - but Paris is far from the only example. Oslo is set to ban all cars from its city centre by 2019, backing this up with a view to have an additional 60 kilometres of cycle tracks in place by 2019, as part of a planned $1 billion spend on new bike highways across Norway.
Maybe cities in the UK could learn something from their stance. The drive to reduce pollution and cut car use in our cities is meritorious of course but to make it sustainable, it must provide a viable long-term alternative approach for commuters.
Sukalpa Biswas is senior consultant, infrastructure asset management, at Yotta.
This feature first appeared in Local Government News magazine – click here for your free copy.