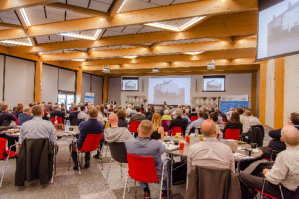 Housing association and local authority professionals can take advantage of a trade body conference, to get the inside track on how to tackle excess moisture in their property stock.
The Property Care Association has brought together industry experts, academics and practitioners from across the world to share best practice at the 2018 International Residential Ventilation & Preservation of Buildings Conference.
Taking place on the 14th and 15th June at The Slate, University of Warwick, in Coventry, the conference content is the perfect fit for housing associations, and – as a trade body event – offers an attractive pricing structure for a limited number of non-member delegates.
Costs are just £150 per day plus VAT, or £300 for both days, plus VAT.
The agenda for the first day includes an insight into residential ventilation, which the PCA says is critically important to tackle issues with a new generation of humid homes.
The second day looks at preservation in buildings, including defects in cavity wall insulation, the specification of pre-treated timber and an overview of the threats from emerging insects to timber in UK construction.
Speakers and panellists from RICS, the University College London Institute for Environmental Design and Engineering (UCL IEDE), UK Centre for Moisture in Buildings and Bangor University are taking part, while Dr Fernanado Sarce-Thomann of Chile will give an international perspective on acceptable limits of moisture in homes.
More details on the conference content and the speakers can be found at www.property-care.org/conferences
Steve Hodgson, Chief Executive of the PCA, "Housing associations and local authorities are at the frontline in dealing with a subject area of increasing importance nationally, namely excessive atmospheric moisture in buildings.
"A number of factors are contributing to the rising trend, predominately linked with modern living - including increased levels of occupation and rising fuel costs, as well as a drive to make homes more energy efficient.
"Efforts to reduce air leakage through draught proofing and retrofit insulation, as well as the changing climate patterns - featuring warmer, wetter weather – are also of significance.
"We are looking forward to sharing the latest research, perspectives and best practice on these subjects and more over the two days."
As well as the conference, the PCA has a range of initiatives for those with responsibility for housing stock, including a comprehensive training programme, which can be delivered cost-effectively in-house, for maximum benefit.
This includes the opportunity to take the route towards the new Certificated Surveyor of Dampness in Buildings (CSDB) qualification.
Providing a comprehensive insight into the key factors relating to moisture in buildings, it covers building construction, diagnosis, atmospheric moisture and rainwater penetration and is geared up to the unique requirements of social housing professionals.
Specific information on in-house training options can be found at www.property-care.org/training-qualifications/training-courses/in-house-training-options
The PCA has also produced a video on moisture in buildings, at www.property-care.org/professionals/moisture-buildings