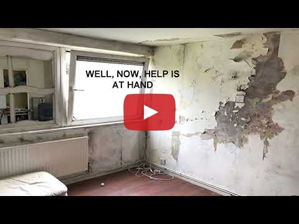 An increasing number of Social Housing organisations are being inundated with housing disrepair claims due to claims management companies and solicitors targeting the tenants.
However, a shortage of qualified inspectors, as well as budget constraints, makes it very difficult to react quickly when a complaint arises.
Therefore, we at https://www.evevideo.com/ have designed a specialist digital inspection product that enables property surveyors to liaise with tenants from their office rather than have to travel to the home.
Importantly, we have access to a national network of surveyors who are highly experienced in dealing with Housing Disrepair Surveys and can undertake a quick inspection and produce a Scott Schedule for as little as £50.
The Surveyor(s) initiate a video conference with the tenant using their mobile phone or desktop in a simple and easy way. The conference is automatically recorded and saved and the recording can be accessed, reviewed, notated, transcribed and made available to colleagues to make sure they can make an informed decision about the state of the property before any unnecessary costs are incurred.
Importantly, you can respond to the tenant quickly and before they get a solicitor involved.