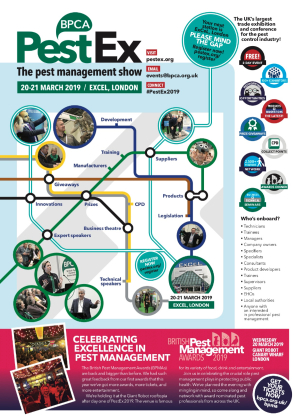 The British Pest Control Association is calling on local authorities active in pest management to enter its major awards event.
The British Pest Management Awards (BPMA's) celebrate the difference individuals and organisations make to portray a positive image of the industry, covering public health, food safety, environmental sustainability and economic significance.
Many of the categories are designed to appeal to those local authorities who provide a service in this sector.
Categories include a dedicated local authority of the year accolade, as well as community initiative of the year, collaboration of the year, unsung hero, technician of the year, and young technician of the year (below 30).
Team of the year and the lifetime achievement award are also relevant to those operating in the public sector.
Ben Massey, BPCA's marketing manager said: "The BPMA's recognise the crucial role pest management plays in protecting public health.
"BPCA is seeing an increasing number of local authorities working within the membership structure developing pest control services.
"These awards are a great opportunity to see their work recognised.
"We hope local authorities who are active in pest management take this opportunity to enter the BPMA awards and share their success stories."
The deadline for nominations is the November 1, 2018. The BPMA's take place on Wednesday, March 20, 2019, at the Giant Robot, Canary Wharf, London.
More details can be found at bpca.org.uk/Upcoming-Events/british-pest-management-awards-bpmas-2019/6884?OccId=9802
The BPMA's are held on evening of the first day of the BPCA's major industry event, PestEx 2019 - the UK's largest trade exhibition and conference for the pest control industry.
PestEx is held at the London ExCeL exhibition centre on March 20 and 21. More details can be found at bpca.org.uk/Upcoming-Events/pestex-2019-the-pest-management-show/4369?OccId=6603